In this blog. I am providing details to earn PDUs under the Strategic category of Talent Triangle.
Let's begin with a brief insight around Strategic PDUS:
Strategic PDUs represents skills helps to deliver better business outcomes. These are the processes; tools & techniques contribute to the larger organizational strategy.
Following are the few examples of strategic business management (but not limited to):
Benefits Management and Realization
Business Models and Structures
Bench-marking and Competitive Analysis
Customer Relationship and Satisfaction
Market and Industry Analysis
Regulatory Compliance
Operational Functions (Finance, Marketing, etc.)
Strategic Planning, Analysis and Alignment
Minimum & Maximum Strategic PDUs for PMIs Certification's: The minimum and maximum Strategic PDUs requirements for each PMI's certificate are as below:

How to earn Strategic PDUS?
Strategic PDUs are applicable for any of your PMI certificates. Following are many possible ways to earn these PDUs.
Reading Books: You can earn strategic & business PDUs by reading books related to the above mentioned strategic areas. The Internet is full of books which talk about these strategic topics. I earned strategic PDUs by reading the following books:

Hug Your Customers by Jack Mitchell: The book provides the importance of personalized and customized customer service. You need to create fan customers as only satisfying them is not enough. Book shares the hands-on practical philosophy to excel marketplace and shows how hugging works for the business.
Good to Great book by James C. Collins: This book describes characteristics of organizations that become 'good to great.'

These organizations have humble leaders work for what's best for the company
These organizations have right people in the right place. The book communicates importance about finding right people and trying them in different positions.
Leader confronts the hard facts without losing hope and consider careful analysis about what's makes money.

Tipping Point by Malcolm Gladwell: This book talks about how a little thing can make a difference in business. The books provide insight on how to change ways of thinking of selling products and spreading their ideas.
The Curve by Nicholas Lovell: This book explains that sometimes companies win by releasing FREE products. But at the same time, they get fans to pay more for customized services.
Note: You can earn 1 PDU for each hour you spend in reading Strategic content. You can report these PDUs under 'Read'category of Education PDUs. You can refer my blog on "How to report Read PDUs" which will assist you in reporting PDUs
Watch Videos: You can earn Strategic PDUs via online learning's also. You can watch pre-recorded videos relevant to Strategic management. Here, I am providing my ever-growing playlist which I used in earning Strategic PDUs. These videos include the following Strategic topics but not limited to:

SWOT analysis for strategy development
Movers and shakers in business agility and impact of agile across functions and groups
Technology as driving factor in business agility
Identifying value proposition for the customer's satisfaction
Ways to develop business strategy.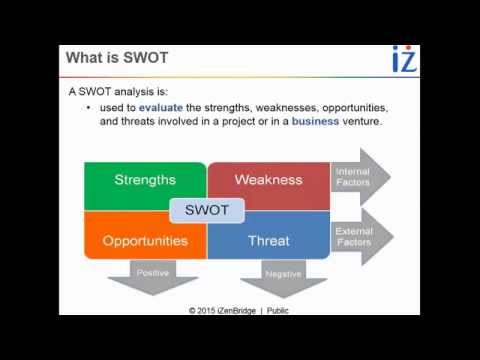 Note: You can earn 1 PDU for each hour you spend in learnings through these online and digital mediums. You can report these PDUs under 'Online and Digital Media'category of Education PDUs. You can refer my blog on "How to Report Online & Digital Media PDUs", which will assist you in reporting PDUs.
iZenBridge Free Programs: You can also enroll in our FREE Courses to earn few Strategic PDUs. For more details, you can refer our FREE program listing.
We do also conduct frequent FREE webinars on Strategic topics. My advice is to keep an eye on our periodic FREE Webinars. Our learning resources can help you in earning PDUs for your CCRS
I hope this blog has answered all of your concerns related to how to earn Strategic PDUs. For the technical and leadership components of Talent Triangle, you may refer my blogs on earning technical PDUs and leadership PDUs.
In case you have follow-up questions, please post them in the comment box, and we would be more than happy to assist you.
Frequently Asked Questions:
Why PMI introduced talent triangle?
Answer:  Once you earn your PMI certificate, it is just the beginning of embracing skills. You need to keep improving skills related to the areas of your certificate. So, PMI ensures continuous professional development by making PDUs earning process mandatory.
Here the question to PMI  is how to design PDU categories?  Based on recent surveys, PMI understood how important to develop a combination of skills. For these combinations of skills and to make you competitive in the market, they introduced Talent Triangle. This Talent Triangle is the ideal skill set in the form of technical, leadership, strategic & business expertise.