Leading SAFe® 6.0 Agilist Certification Training
Take a first step towards a change by becoming a SAFe Agilist.
Get a Leading SAFe® certificate from the globally renowned Scaled Agile, Inc.
Training by an elite panel of SAFe Practice Consultants (SPCs)
Earn 16 PDUs to renew PMI certifications
Get a membership with Scaled Agile
SAFe® Agilist exam fee included in the course fee
iZenBridge is a Scaled Agile, Inc. Silver Partner
What is a
Leading SAFe Certification?
Leading SAFe 6.0 certification training course offers an understanding of the foundations of the SAFe framework. It teaches you how to confidently implement Lean-Agile principles and practices. It also provides an accurate, reliable, and uniform method of evaluating SAFe® skills, knowledge, and mindset. The Leading SAFe® training will also teach you how to build business agility and implement SAFe within your organization. In the Leading SAFe® Training and certification course, you will also learn the techniques to improve product quality, boost productivity, increase employee engagement, and decrease time to market. Being a SAFe® Agilist, you will ‌understand:
How to run key SAFe alignment and planning events, such as PI planning.
How SAFe Seven Core Competencies achieve Business Agility.
How to become a Lean-Agile leader and apply a lean-agile mindset at Scale.
How to explore Lean Portfolio Management.
How to become a Lean-Agile leader and apply a lean-agile mindset at Scale.
How to explore Lean Portfolio Management.
Why become a
Leading SAFe Agilist?
1.
Scaling Agile Framework adopted across the Globe
2.
$113K per annum as an average salary
3.
20K+ Adopted by 20K+ enterprises worldwide
4.
35% increase in productivity
5.
30% increase in employee engagement
6.
70% + of US Fortune 100 companies actively employing SAFe®
Who should get
a Leading SAFe Agilist certification?
Senior Project Managers / Senior Consultants

Program Managers / Projects Managers / Product Managers

Team Leads / Tech Leads / Business Heads / Business Analysts

Development / QA / Infrastructure Management

IT Managers / Process Leads / Executives & Leaders

Enterprise, System & Solution Architects

Scrum Master / Agile Scrum Master / SAFe Scrum Master

Senior Agilist / Agile Coach / Senior Agile Scrum Master

Directors / CIOs / VPs / Portfolio Managers / PMOs
What does
SAFe Agilist do?
Align the entire organization to work toward the same goals.

Enhance value and workflow from strategy to delivery.

Make companies more customer-centric.

Demonstrate how SAFe® Principles enable business agility at scale.

Build a Continuous Delivery Pipeline with DevOps.

Form cross-functional Agile Teams to support the organization.

Enhance communication and collaboration across all projects.

Embrace the Lean mindset & become a Lean-Agile leader.
Leading SAFe Course Prerequisites
Everyone with a keen interest in learning and implementing Agile is invited, regardless of experience. However, the following prerequisites are recommended for those who aim to take the SAFe® 6.0 Agilist certification exam:
5+ years of experience in software development, business analysis, testing, product, or project management
Experience in Scrum
01
Enroll in iZenBridge for Leading SAFe® 6.0 course
02
Gain access to pre-read material for the SAFe Agilist course program
03
Attend our 2-day Leading SAFe® 6.0 Training with SPCs
04
Take the SAFe Agilist certification training online exam
05
Pass the SAFe Agilist Exam with a minimum of 80%
06
Get the Leading SAFe® certification from Scaled Agile
Leading SAFe Certification
Training Deliverables
SAFe Agilist certification training by SAFe Practice Consultants (SPCs) with a 100% success rate

One-year membership to SAFe Studio with your first class attendance

16 PDUs to renew PMI certifications

We will get you ready for the exam. In case you fail, we pay the retake fee.

Full money back if you don't like or are unable to attend the class
To attain Business Agility, organizations must initially acknowledge the issue they aim to resolve. After identifying the problem, they can utilize SAFe, an operating system that facilitates Business Agility by managing and providing intricate products and systems rapidly and efficiently. SAFe is constructed on the principles of Lean and Agile approach, which emphasize cooperation, ongoing improvement, and delivering value. Developing and mastering the seven core competencies in SAFe is crucial for achieving Business Agility. These competencies comprise Lean-Agile Leadership, Team and Technical Agility, Agile Product Delivery, Enterprise Solution Delivery, Lean Portfolio Management, Organizational Agility, and Continuous Learning Culture. By enhancing these competencies, organizations can swiftly and competently deliver high-quality products and services, promptly adapt to shifting market demands, and maintain a competitive edge in a constantly evolving business environment.
For organizations to effectively utilize SAFe, they must fully adopt the Lean mindset and cultivate a culture of perpetual enhancement, waste minimization, and prioritizing customer satisfaction. Once accomplished, they can implement Lean and Agile approach at a larger scale utilizing the SAFe principles, which offer a framework for delivering complex projects and programs quickly and resourcefully. By adhering to the SAFe principles, organizations can accomplish Business Agility, promptly adapt to evolving market needs, and consistently improve their techniques and approaches.
To attain success with Agile approach, organizations must establish cross-functional teams that collaborate to deliver valuable outcomes to the customer. These teams should possess decision-making authority and the necessary competencies and resources to fulfil their tasks. Integrating quality into the process is also crucial, guaranteeing that the product or service meets customer requirements and is delivered punctually. Moreover, structuring Agile release trains based on the progression of value is pivotal to ensuring that tasks are executed efficiently and proficiently. By arranging teams around the progression of value, organizations can ensure that appropriate tasks are accomplished at the appropriate time, optimising efficiency and delivering value.
To achieve success with Agile approach, organizations should emphasize customer centricity and adopt design thinking principles into their approach. They should prioritize their program backlog by delivering the most significant items first. Participating in Planning Interval Increment (PI) planning, a vital SAFe event that helps align teams and establish priorities for the upcoming iteration, is essential. Ensuring work is completed promptly and efficiently by developing on cadence and releasing on demand is also critical. Lastly, establishing a continuous delivery pipeline using DevOps is pivotal to accomplishing rapid, dependable, and high-quality delivery of products and services. By implementing these practices, organizations can attain Business Agility and provide customers with value quickly and proficiently.
The key responsibility you will undertake is managing an organization's portfolio in a lean and agile manner. This topic encompasses essential points, such as defining a SAFe Portfolio, linking it with the Enterprise Strategy, preserving the Portfolio Vision, establishing Portfolio Flow, and financing value streams. These points underscore the significance of harmonizing development programs and initiatives with the overall enterprise strategy, maintaining a clear and shared comprehension of the targeted outcomes, streamlining the progression of value through the SAFe Portfolio, and allocating ample resources to deliver value to the organization's stakeholders. Grasping these concepts is critical for organizations to manage their portfolios and effectively attain their strategic goals.
Your focus will be on leadership when implementing change within an organization. The primary points in this topic are "Leading by Example" and "Leading the Change." To lead by example, you should model the desired behaviours and practices to encourage others to adopt them. This fosters a culture of continuous improvement and motivates the team to accomplish its objectives. To lead the change, you must offer teams direction, inspiration, and support to embrace and implement the changes necessary to achieve organizational goals. Effective leadership is indispensable for propelling change and guaranteeing that the organization is agile and capable of adapting to changing business requirements.
SAFe Agilist Exam Pattern
Name: SAFe Agilist Exam
Format: Multiple Choice
Delivery: Web-based
Access: Candidates can access the exam within the SAFe Community Platform upon completion of the Leading SAFe course
Duration: 90 minutes (1.5 hours)
Number of Questions: 45
Passing score: 36 out of 45, i.e. 80% passing score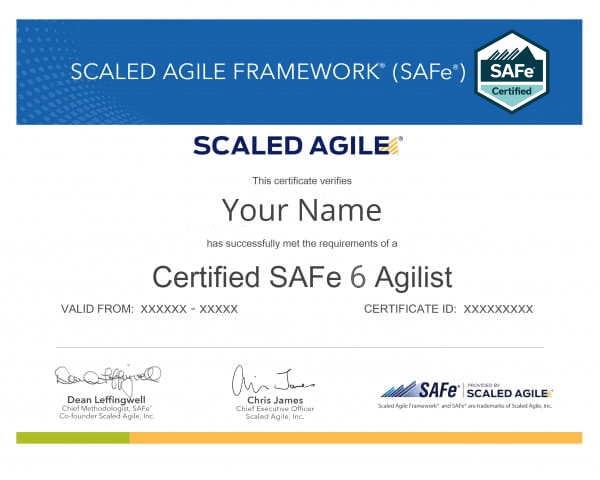 Why
choose iZenBridge for Leading SAFe

certification?

5000+ professionals trained worldwide in Leading SAFe

100+ SAFe classroom/online sessions completed

55,000+ subscribers are getting the benefits

Access to pre-read material immediately after registration

500+ enrolments every month

Full money back if you don't like or are unable to attend the class.

We will get you ready for the exam. In case you fail, we pay for the retake fee.
SAFe Agilist is a Scaled Agile certification. If you are an executive, manager or agile change agent who leads a Lean/Agile change initiative in your enterprise, then by acquiring the Leading SAFe training and certification, you will be able to demonstrate your knowledge in applying the Scaled Agile Framework (SAFe®), lean thinking, and product development flow principles in an enterprise context.
Yes, the candidate will get 16 PDUs to renew PMI certifications, after completion of the Scaled Agile Framework certification course.
Yes, you have to pass the SAFe Agilist certification exam to become a Leading SAFe Agilist Certified professional.
Although everyone is invited to attend the Industry-leading SAFe® certification and training, regardless of experience. However, 5+ years of experience in software development, business analysis, testing, product, or project management and experience in Scrum are highly recommended for those who aim to take the SAFe® Agilist certification exam.
Yes, you will get access to pre-read material immediately after registration for the Leading SAFe certification training course.
As part of the training program, Scaled Agile offers a single complimentary exam attempt. If you don't pass the exam on your first try, there is a $50 retake fee for subsequent attempts.. However, we have full confidence in our training approach and offer assurance. If you undertake our practice tests, score 90% or above (you can take multiple attempts), and sit the exam within 20 days of completing your training but don't succeed, we've got your back.
We will cover the retake fee and work together with you to explore how you can enhance your preparation for the next attempt. Hence, we provide financial coverage for one retake, under the condition that it is completed within 20 days post-training and that you score at least 90% on our practice tests.
The cost of obtaining a SAFe Agilist certification varies based on the currently available discounts and promotions. For the most competitive pricing, please contact us at +91-9958287711.
Yes, the SAFe Agilist exam fee, i.e. 195 USD, is included. Our experts will help you clear all your doubts so that you can crack the SAFe exam with ease. However, in case you don't clear on the first attempt after giving your best, which is the rarest of the rare possibility, we will be getting SAFe Agile certification free retake fee. We will also be there to guide you further in your SAFe® Agilist journey.
The SAFe Agilist exam is a little tricky to crack but easy if you do better planning. We suggest you study the Leading SAFe workbook, attempt the SAFe Agilist mock test available on our website, and analyze the result of your SAFe Agile Training and Certification practice tests by studying each Leading SAFe agile certification question. Our SAFe Agilist Mock tests are available as a part of the SAFe Training in India. Our SAFe Agilist Mock tests will help you prepare for the SAFe Agile Certification & Exam and identify your strengths and weaknesses so that you can crack your SAFe Agilist exam easily.
Yes, in the current situation, we are giving a 100% refund/rescheduling if you can't attend the SAFe Agilist Training Course in India for any reason.
Let us know within 4 hours of starting the SAFe certification training class, and we will refund your full money.
A: You can find more information in the below links:
All cancellation and rescheduling requests must be notified over email.
Requests received any time before the Leading SAFe certification training class will get a 100% refund. Within 7 working days.
After the first day, if you cannot attend because of an emergency, we will reschedule your SAFe agile course & certification training class for the future.
You will earn 16 PDUs and 16 SEUs after completing the SAFe agile certification course.
Lead by Industry Leading
Trainers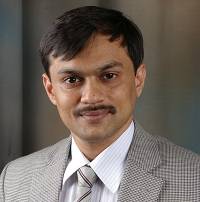 Trainer & Coach - PMP®, PMI-ACP®, SAFe Agilist , KMP , CDA , ICP-ACC , ICP-ATF and CAPM®
Saket is a project Management enthusiast, a leading agile trainer and coach with experience in implementing and imparting project management practices amongst corporates and professionals. He is fo...
Experience :
20 + Years...
Trained :
15,000 + Participants
Unable to find a batch in your city?
Reach out to us today. We'd love to answer your query.