We start each project to get some business benefits. We design it to achieve users and other stakeholder's satisfaction. And we build it to improve organization KPIs. But, we live in a world where the project faces many uncertainties. These uncertainties or risks can prevent us from achieving our project goals or objectives. So, it is critical that we identify them in time to take care of their affective responses.
The more we know our risks, the more we can evaluate and prioritize them timely for:
Reducing their probable negative impacts, or
Increase their likely positive impacts
We can use Qualitative Risk Analysis and Quantitative Risk Analysis techniques to evaluate and prioritize risks. I see there are a lot of confusion around how these two techniques are different from each other.  In this blog, I will address these confusions and differences between these two techniques.
Before we get into the difference between qualitative and quantitative risk analysis/assessment, it is mandatory to understand how we perform risk analysis in projects.  Below is the summarized demonstration of the risk analysis: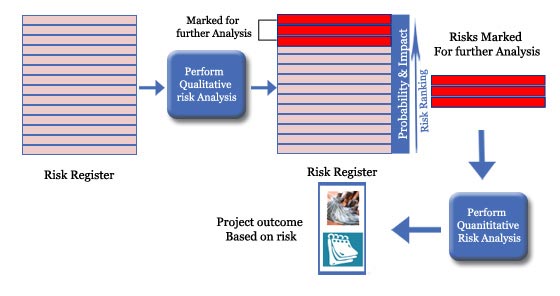 We perform a Risk Analysis on a list of identified risks. We record these identified risks in Risk Register.
In general, we always have a long list of risks, and it is not practical to plan each risk with the same priority. We need to invest time and resources wisely, so we need to rank these risks.
First, we rank these risks based on their impacts and likelihood, and thus you can take care of the ones with high-risk exposure. It is how we perform a Qualitative Risk Analysis Process.
Now let's see – what is a quantitative risk analysis?
Qualitative Risk -The method of prioritizing individual project risks for further analysis or action by assessing their probability of existence and impact as well as other characteristics.
Now the question is how do we perform a qualitative risk assessment?
In qualitative risk analysis, impacts and likelihood evaluated using some established methods.  After evaluation, we describe them in terms such as very high, high, moderate, low, very low.
The purpose of qualitative risk analysis is to:
Identity (or mark) risks for further analysis.
The risk which is not marked for further analysis, it identifies actions for them based on the combined effects of the probability of occurrence and impact on project objectives.
In other words, after qualitative analysis, you can do quantitative analysis. There is no need to do a quantitative analysis of each risk.  You do this analysis only for those risks you mark for further analysis by the Perform Qualitative Risk Analysis process.
Let's check – what is a quantitative risk analysis?
As per the PMBOK® Guide
Perform Quantitative risk Analysis  The process of numerically investigating the combined impact of identified single project risks and other sources of uncertainty on overall project objectives.
The purpose of quantitative risk analysis is to identify the "effect of identified risks on overall project objectives." It quantifies the risk exposure and determines the size of cost and schedule contingencies.
Now, let us look at the difference between quantitative and qualitative risk analysis in detail:
| | |
| --- | --- |
| Perform Qualitative Risk Analysis | Perform Quantitative Risk Analysis |
| It considers all the risks identified in the identify risk process. | It only considers the risks which we mark for further analysis in the Perform Qualitative Risk Analysis Process. These are the risks that have a high impact on the project objectives. |
| It does not analyze the risks mathematically to identify the probability and likelihood. Instead, it uses stakeholders inputs (expert judgment) to judge the likelihood and impact | Perform Quantitative Risk Analysis uses the probability distributions to characterize the risk's probability and impact. It also uses the project model (e.g., Schedule, cost estimate), mathematical and simulation tools to calculate the probability and impact. |
| In this, we assess individual risks by assigning a numeric ranking of probability and impact; usually; the rank of 0 to 1 is used where 1 demonstrates high. | It predicts likely project outcomes in terms of money or time based on combined effects of risks. It also estimates the likelihood of meeting targets. And communicates contingency needed to achieve the desired level of comfort. |
| We apply to Perform Qualitative Risk Analysis process in almost all the projects. | We don't use this process in simple and moderately complex projects.   We may not find its use in software projects. |
I hope this blog helped you to clarify all the doubts related to differences in Qualitative and Quantitative risk analysis. I also did a live web clarification session on the Risk Management topic. You may watch it.
You can join the discussion on the same in our Forum. You can also log into our YouTube channel watch the video on the same.
Enroll to our 

FREE PMP® certification Introductory Program

 to learn more about PMP® certification