Why Kanban Method?
The essence of Kanban is – "start where you are", and start with "small pragmatic actionable steps" that you can start implementing next Monday! No need to define new roles, no need to change team structure, no need for any drastic changes in the way you develop products or deliver services. In short, Kanban favours an evolutionary change approach rather than a big-bang, disruptive change.
Pioneered by David Anderson, the "Kanban Method" is much more than just a board or a Kanban system. It is a management method that helps improve service delivery, catalyse improvements and evolve a business to be "fit for purpose". It guides you on how to decide WIP limits, how to conduct effective daily standup and other Kanban meetings, and how to measure and use meaningful Kanban metrics like Flow Efficiency, Lead Time Distribution, Control Chart and Cumulative Flow Diagram (CFD).
Some of the common situations where Kanban provides great value include:
New Scrum teams struggling to reach a sustainable pace of development.
Scrum teams that are overwhelmed by frequent changes in the Sprint scope.
Non-Agile (waterfall) teams that wish to transition to Agile, but feel Scrum could be too risky, too disruptive.
Mature Scrum teams that wish to transition to Continuous Delivery.
Teams looking for an "Alternative path to Agility".
To know more about Kanban, Click here
Why Kanban certification from KU?
David J Anderson – the founder of Kanban Inc, the parent body of KU – pioneered the use of the "Kanban Method" for knowledge work and service work since 2005. Over the past several years, David – with assistance from an active Kanban community – has enhanced the Kanban method by incorporating concepts such as pull systems, queuing theory and flow.
Today, the KU Kanban certifications are the most renowned Kanban certifications in the technology world.
Team Kanban Practitioner certification
Team Kanban Practitioner (TKP) is a highly interactive one-day introductory virtual class on Kanban Method that is accredited by the Kanban University (KU). It focuses on actionable practices and techniques that can improve the flow of work for your team. This course starts with Kanban principles and practices, shares the idea of the Kanban system via an interactive simulation game, and discusses board design, ticket design and classes of service among other basic Kanban concepts – in short, a great way to get started with Kanban on a team level.
If you are new to Kanban and are not sure how the Kanban Method could bring improvements in your work environment, TKP could be a good way to get started. It will help you identify the first set of steps that will improve the flow of work and bring some predictability to your team planning.
Kanban System Design (KMP-1)
"Kanban System Design" is a 2-day beginner to the intermediate level online course that begins with a detailed introduction to Kanban Method and moves on to share the STATIK approach – a powerful idea that facilitates a 'service-orientation' mindset. It makes participants think at a deeper level, beyond just their daily work challenges, to effect a long-term sustainable change.
This virtual course is often also referred to as Foundation 1 – the first step in your journey to be a Kanban Management Professional. It is recommended for you if:
You are optimistic about using Kanban in the near future and wish to understand the Kanban Method at a deeper level, beyond just the basics.
You are in a leadership role (PM, Scrum Master or Service Delivery Manager) responsible for effecting meaningful changes to the team environment.
You are in an Agile coaching or consulting role and wish to improve your team coaching skills.
You may find the detailed online course agenda here
Kanban Management Professional (KMP-2)
This is an intermediate to advanced level virtual course on Kanban Method and the second (and last) step in your journey to be a Kanban Management Professional. Beyond reviewing the basic Kanban concepts, it delves into the Kanban cadences (meetings) and discusses various continuous improvement models.
This online course may be done only after Foundation 1 (Kanban System Design) has been completed. It is recommended only if you possess good basic knowledge of the Kanban Method and have been practising Kanban for at least six months to one year. It is highly recommended for experienced managers and Agile coaches.
You may find more details about KMP-2 here.
Summary of Comparison
Below is a quick summary of three online courses: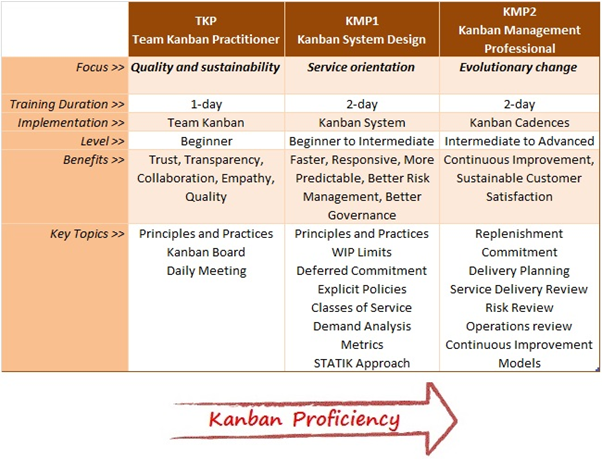 iZenBridge Consultancy is a registered trainer partner with Kanban University (KU) and offers Kanban training in India. Please visit https://www.izenbridge.com/ to learn more about Kanban training in Bangalore and other Indian cities.