Kanban Systems Improvement (KMP2)
UpComing Training
Kanban Systems Improvement (KMP2) Training Virtual (22, 23, 29, 30 Jan)
4 hrs Sat & Sun : 4 Sessions
4:00 pm – 8:00 pm IST (GMT+5.5)
Price:INR 40000+18%GST

The essence of Kanban is – "start where you are", and start with "small pragmatic actionable steps" that you can start implementing next Monday! No new roles, no need to change team structure, and no need for drastic changes in the way you develop your products or deliver services. In short, Kanban favours an evolutionary change approach rather than a big-bang, disruptive change.
Pioneered by David Anderson, "Kanban Method" is much more than just a board or a kanban system. It is a management method that helps improve service delivery, catalyse improvements and evolve a business to be "fit for purpose".
Some of the common situations where Kanban Method delivers great value include:
New Scrum teams struggling to reach a sustainable pace of development
Scrum teams that are overwhelmed by frequent changes in the Sprint scope
Waterfall teams that wish to transition to Agile, but feel Scrum could be too risky, too disruptive
Mature Scrum teams that wish to transition to Continuous Delivery
Teams looking for an "alternative path to agility"
What will you learn?
"Kanban Systems Improvement" is a 2-day advanced level course that will help participants build on their existing knowledge of the Kanban Method and will help them take their current Kanban implementation to the next level.
After completion of training you will gain practical insights on how to:
Guide a team in their adoption of Kanban
Embrace a service-delivery mindset and help the team Identify and reduce the bottlenecks that obstruct their development process
Learn how to measure and use meaningful kanbanmetrics like Flow Efficiency, Lead Time Distribution, Control Chart and Cumulative Flow Diagram (CFD)
Learn how to conduct effective Kanban meetings – service delivery review, operations review and risk review
Evolve the process and practices in collaboration with team to ensure the service delivery model is "fit for purpose"
| | | | |
| --- | --- | --- | --- |
| Session | Date | Time(IST) | Duration |
| 1 | Sat, 22 January 2022 | 4:00 pm – 8:00 pm (GMT+5.5) | 4 hr |
| 2 | Sun, 23 January 2022 | 4:00 pm – 8:00 pm (GMT+5.5) | 4 hr |
| 3 | Sat, 29 January 2022 | 4:00 pm – 8:00 pm (GMT+5.5) | 4 hr |
| 4 | Sun, 30 January 2022 | 4:00 pm – 8:00 pm (GMT+5.5) | 4 hr |
Course Prerequisites
You should have Kanban System Design KMP 1 certification if you wish to pursue KMP 2 certification course.
Is there any exam for KMP 2 course?
There is no exam for KMP-2. However, you need to attend the training sessions and answer all the assignments to get certified.
Why Learn from Lean Kanban University (LKU)?
David J Anderson – the founder of Lean Kanban Inc, the parent body of LKU – pioneered the use of "Kanban Method" for knowledge work and service work since 2005.Over the past several years, David – with assistance from an active Kanban community – has enhanced Kanban method by incorporating concepts such as pull systems, queuing theory and flow.
Today, the LKU Kanban certifications are the most renowned Kanban certifications in the technology world.
Training Deliverables
This certified Kanban training is designed as a hands-on workshop and uses various exercises and simulation games alongside instructor-led discussions and presentations. The training deliverables include:
Lean-Kanban University (LKU) certificate of course completion
Electronic copy of the course slides
Electronic copy of the book "Kanban – Successful Evolutionary Change for Your Technology Business" by David J. Anderson
Membership of the Lean-Kanban University (LKU) and access to the members' only sections of the LKU website. This will help you connect with the Kanban community and share your experience and new ideas.
Target Audience
This course is a beginner to intermediate level program relevant for anyone looking for new proven ways to optimize the flow of knowledge work:
Project Managers / Program Managers
Agile Coaches and Consultants
Application leads / Team leads
Software developers, Testers, Business analysts
Need Some help? Call us 9958297711, 9990451333, 8884670012
or Email at sales@izenbridge.com
The KMP II class will help you adopt Kanban and enhance your existing Kanban system. You will consider what type of Kanban initiative may be most appropriate for your organization and how to manage and evolve it over time without trauma. The class also covers the recommended feedback loops like service delivery review, operations review and risk review.
During the course, we will discuss the following Kanban topics:
Motivation for the Kanban Method
Understanding Kanban values
Dealing with resistance to WIP limits
Proto-Kanban – Various Kanban boards
Case Study – Scrumban for the Enterprise
Kanban Systems – key characteristics and metrics
Kanban cadences – Implementing feedback loops
Commitment and Replenishment
Evolutionary vs. Managed change
Understanding Process Variability
Models for continuous improvement
To support the classroom teaching this course uses non-technical exercises, case studies and a simulation exercise.
†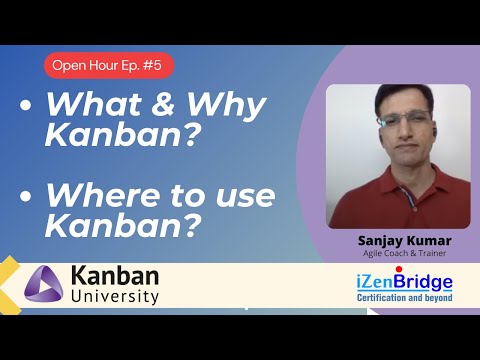 Agile Trainer & Coach [AKT, ICP-ACC, CSP, ICP-ATF, KMP, PMI-ACP]
An Agile enthusiast and a proponent of software development best practices, Sanjay Kumar is one of the few trainers in India who specialize in the three key practice areas related to agility for software development teams – Scrum, Kanban and Extreme Programming (XP).
Email: sanjay.kumar@izenbridge.com
Training Schedules would support the time zones of the following Countries/Cities
US, Canada, UK, London, Australia, Melbourne, Sydney, Perth, Florida, New York, California, Idaho, Los Angeles, Nevada, Oregon, Washington, Seattle, Mississauga, Charlotte, Cairo, Columbia, Wellington, New Zealand, Fishers, Toronto, Germany, Denmark France, Chile, Santiago, Argentina, Poland, Portugal, Netherlands, Prague, Belgium, Sweden, Spain, Saudi Arabia, Riyadh, UAE, Dubai, South Africa, Egypt, Greece, South Africa, Turkey, Nigeria, Indonesia, India, Bangladesh, Singapore, Malaysia, Sri Lanka, Manila, Delhi, Gurgaon, Bangalore, Hyderabad, Chennai, Mumbai, Pune, Kolkata, Kerala, Kochi.
iZenBridge
Average rating:
0 reviews