Scrum and Scaled Agile Framework, have gained popularity in the current era. Both of them are based on Agile and Lean values and principles. At the same time, they do have differences in the way they apply Agile thinking. In this blog, we are sharing our perspective on the difference between these two. We get asked this question by many of our Certified Scrum Master (CSM) class participants.
Let's look at official definitions of these two frameworks
Definition of Scrum
Scrum (n): A framework within which people can address complex adaptive problems, while productively and creatively delivering products of the highest possible value.
Scrum is:

Lightweight
Simple to understand
Difficult to master
Source: https://www.scrumguides.org/scrum-guide.html#definition
SAFe® for Lean Enterprises 5.0
SAFe for Lean Enterprises is a knowledge base of proven, integrated principles, practices, and competencies for Lean, Agile, and DevOps.
© Scaled Agile, Inc. Source: https://www.scaledagileframework.com/safe-for-lean-enterprises/
Let's understand both the terms with an example. Suppose, you want to open up a new restaurant but you have no idea how to do it. In that case, you will be required to do quick inspection & adaption and for that, you will need Scrum. Suppose, after six months you want to expand your business by making 20 restaurants out of it. So, in that case, you will need SAFe because problems will be different in this situation. The Scaled Agile Framework will give you an explicit process to make multiple Agile teams together as a one big Agile Release Train. SAFe will also guide you regarding how you should align your business strategy with execution.
Scrum VS SAFe
| | |
| --- | --- |
| Scrum | SAFe |
| Scrum is adopted by the small self-organizing agile Teams. | SAFe can be adopted by the enterprise as a whole having large teams of agile teams. |
| The Scrum framework consists of Scrum Teams and roles, events, artifacts, and rules. | The SAFe framework consists of agile teams, teams of agile teams, large solutions teams, and lean portfolio management, roles events, artifacts, and rules. |
| You can start working with scrum with three development team members and SM and PO | To start with SAFe, you need to start with Essential SAFe which has 50+ members strong Agile Release Train has 5+ agile teams in it. |
| Scrum is a lightweight framework and addresses teams' concerns related to product development. | SAFe is a comprehensive framework targeted to enable Business Agility of an enterprise and addresses, team, teams of teams, large solutions, and lean portfolio management. |
| Scrum has team level roles like SM, PO and Dev Team member | SAFe has team level, teams of team's level, large solution level and portfolio level roles, for example, RTE, System Architect, Epic Owner, Product Management, Solution Train Engineer and many more |
| Scrum works best when used by companies with a simple organizational structure. | SAFe enables large enterprises to expand the "Agile Way of Working" beyond the teams. |
As per the current scenario, SCRUM and SAFe both play an important role depends on the organizational needs. As a professional, you have to keep yourself ahead from others by getting certified and showcasing your uniqueness in the competitive market. We provide both the certification courses related to Scrum and SAFe. Check out details by clicking on the below links.
There can be no better time than right now for adding one more feather in your cap. We believe in guiding our customers perfectly throughout the journey.
After explaining the difference between Scrum and SAFe, we hope things will be pretty much clear to you. You can also subscribe to our YouTube channel which has 34,000+ subscribers from more than 50 countries. To gain more information on Scrum and SAFe, check out a short video by our Lead Trainer, Mr. Saket Bansal.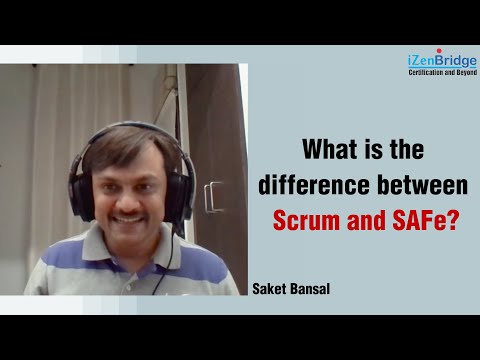 Still, having any questions in mind? Feel free to write to us in the comments section below.