What is SAFe®
Before understanding the Seven Essential SAFe Elements, it is crucial to know about "What is SAFe?"
Where do you start if you want to build operational excellence, collaboration, responsiveness, and customer satisfaction into your organizational DNA?
SAFe provides a proven playbook for transformation.
The Scaled Agile Framework (SAFe®) is the most credible framework in the present scenario due to its trustable, easy to customize, and sustainable framework for leading enterprises.
The Scaled Agile Framework® (SAFe®) is a system for implementing Agile, Lean, and DevOps practices at scale.
Seven Essential SAFe® Elements
Many of you may wonder how to get started with Scaled Agile Framework(SAFe) or might be planning to attend Scaled Agile Framework (SAFe) training.
Our goal with these seven videos is to give you a fundamental understanding of SAFe to support your learning.
These seven videos on Scaled Agile Framework (SAFe) help you develop the first-level understanding, which can significantly increase your training effectiveness.
So watch them before you attend your training class. Although we understand many SAFe training programs, these seven videos give the foundation for any SAFe training.
Now Lets Explore Seven Essential SAFe® Elements one by one:
1- Agile Teams
SAFe is about scaling agile, and we can see this from two dimensions: tactical scalability and strategic scalability.
The tactical one is about making more and more people work together, whereas the strategic one is alignment from Business Vision to execution.
In both cases, SAFe is expanding the idea of agile. So an atom level, we still need an agile to scale, and that is why we need agile teams as an essential building block of origination using a scaled agile framework.
†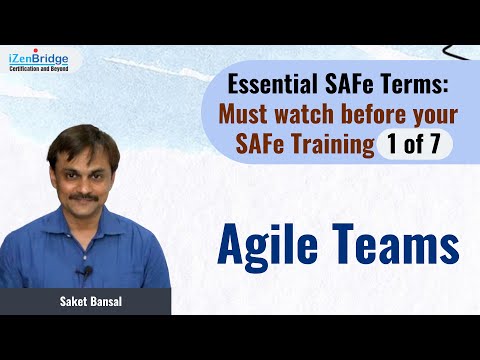 2- Agile Release Train
Agile Release Train (ART) can be considered a collection of multiple agile teams, say 5 to 12 agile teams.
This group of agile teams is aligned with the common backlog called Program Backlog and has a collaborative leadership group.
Agile Release Train (ART) is a team of agile teams, unlike projects where you may start thinking that we have an idea and we form a team.
In SAFe, we have a long-lived group of agile teams, and they keep taking new initiatives as and when such initiatives arise.
†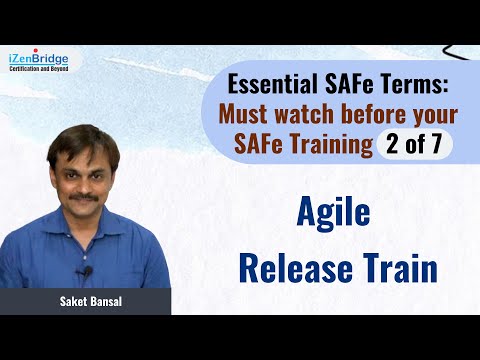 3- Program Increment (PI) and Iterations
In SAFe, we have two timeboxes, one is a little long, and the other is short.
The long timebox is called PI, and it can be of 8 to 12 weeks; in general, we take 10 weeks as the default duration.
Shorter timebox is called Iteration, which is of two weeks. Each timebox is a learning cycle, so we have a two-week learning cycle for team-level work and a ten-week learning cycle for full agile release train.
†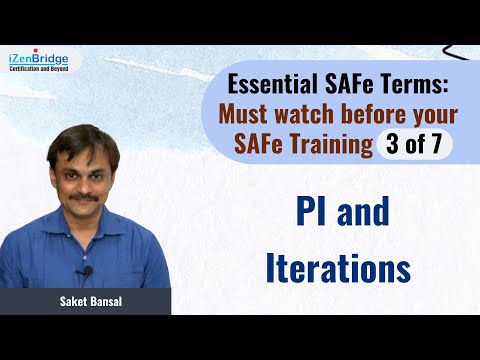 4 – Program Backlog
The Program Backlog contains two types of Work Items, Features, and Enablers.
Features are business functionalities that can be done in one PI by a release train.
Enablers are technological work, which may set the foundation for future feature development.
†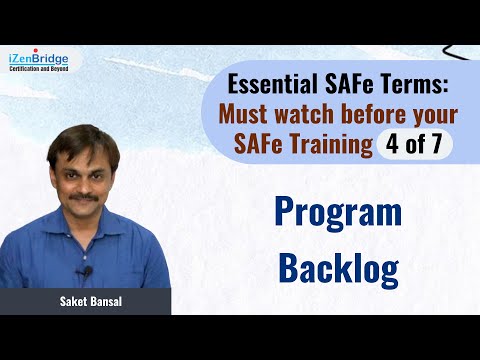 5 – Program Increment (PI) Planning Meeting
PI planning is simple: as an agile release train, we can pull work from the program backlog, which can get done in a given PI.
So we come with an integrated plan which can good understanding of dependencies. And this plan also ensures matching of demand with capacity.
†
6 – Team Backlog
Agile teams have their local backlog, which has everything that the team is expected to work upon.
Two types of work items are stored in the team backlog Stories and Enablers. Product Owner who works closely with the agile team takes care of refinement and prioritizes the team backlog.
†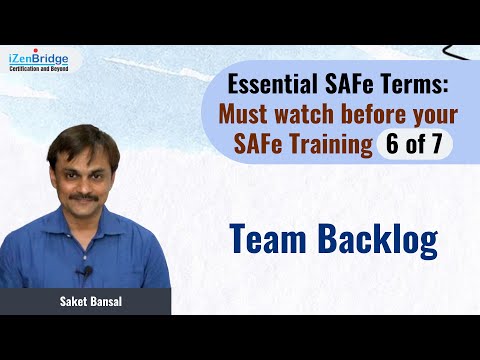 7- Innovation and Planning (I&P) Iteration
Innovation and Planning Iteration is the last Iteration of PI, and it's a unique iteration where Agile Release Train Prepare for upcoming PI. The PI Planning meeting is done in this Iteration only
†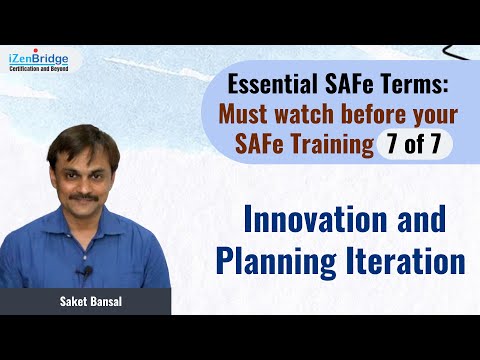 To deep diving into these concepts and enriching experience to ensure that you know and understand how to implement SAFe® in your organization.
You can check our upcoming Scaled Agile Training here:
https://www.izenbridge.com/scaled-agile/ or drop us an email (sales@izenbridge.com) for your specific needs.
Future Self-Learning Tools:
Playlist of Videos on Scaled Agile : https://www.youtube.com/playlist?list=PLWcvFkRbuunnhXSEZ9Q2izeMY-XzJmBSR
Scaled Agile Framework:
https://www.scaledagileframework.com/