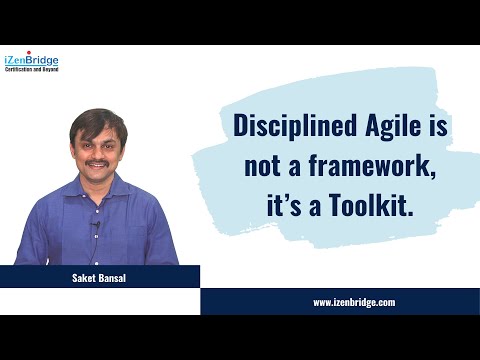 This article is all about the toolkit approach of PMI's Disciplines Agile
What is Disciplined Agile?
As per the PMI (Project Management Institute)
"Disciplined Agile — a tool kit that harnesses hundreds of Agile practices to guide you to the best way of working for your team or organization."
Most agile processes present themselves as a framework and stay away from the so-called methodology, and here we have a method/approach called Disciplined Agile (DA) that says we are not a framework that is a tool kit. Now how many of you would think it is important? One can name the way they want. My objective is to find out why Disciplined Agile is a toolkit? And to find out how it is different from other agile approaches.
How is it different from other approaches?
Disciplined Agile is not giving you only one way of working. It lets you find out and customize your own way of working by using some collection of good ideas, so this is something unique which others will not offer you.
Firstly, like others Agile approaches, in Disciplined Agile there are no readymade frameworks. In Disciplined Agile initially DA coaches and organization's stakeholders come together, and they create their own framework with the help of tools and techniques which are available in the Disciplined Agile.
Second unique thing about the Disciplined Agile, it embraces various good ideas it includes good ideas and practises from Scrum, Lean, Kanban, Scaled Agile etc. all these ideas and practises are cohesively integrated in Disciplined Agile.
Third thing which is unique about Disciplined Agile is their project way of working unlike others considered as a product way of working. Disciplined Agile also supports approaches for project way of Agile delivery along with the product way and continuous flow-based approaches.
So, DA is context sensitive, people can find their own options, it integrates many great ideas and it also caters the project way of doing things.
After sum-up, the above points we can conclude that DA is not a readymade framework rather it allows you the customize your way of existing work, it also embraces all the good ideas and practices of different Agile approaches and it also supports the project way of working which is quite unique.
Disciplined Agile Toolkit
Disciplined Agile (DA) is a hybrid toolkit that builds upon the solid foundation of other methods and software process frameworks. DA adopts practices and strategies from existing sources and provides advice for when and how to apply them together. In one sense methods such as Kanban, Scrum, Extreme Programming, and Agile Modelling provide the process building blocks and DA the mortar to fit the bricks together effectively.
Some of the Sources for Disciplined Agile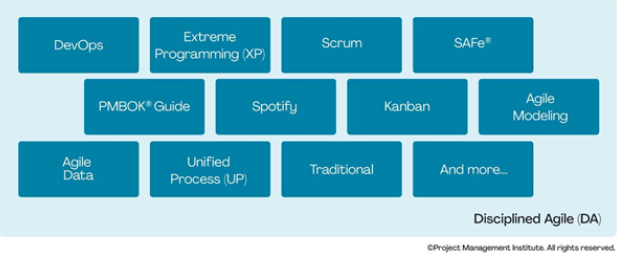 Source: https://www.pmi.org/disciplined-agile/process/introduction-to-dad/a-hybrid-tool-kit-introduction
The hybrid nature of this framework pulls the best elements from several proven methodologies that allow teams to follow the Agile method while also tailoring it to their unique needs. However, it is not an ideal framework for organizations new to Agile, because it does not provide strict enough guidance on how to follow that philosophy. An organization newly transitioning to the Agile approach, Disciplined Agile might make that learning curve too steep and costly.
Here are some examples to make Disciplined Agile (DA) Hybrid Toolkit approach clearer,
DA toolkit also explores how usages of Agile based approaches might be different based on things like

Project or Product Environment
Inhouse or contractor or outsourcing teams
Collocated or multi time zone spread teams
One time funded or value stream funded initiatives
High compliance or low compliance context
One team over Agile team working on a solution
Simple or complex technology domain
New or legacy based development
Small organization or large complex multinational organization

Disciplined Agile (DA) provides insight into many developmental life cycles, life cycles build you up in your own way, so you can choose an external structure and the DA also sees the possibility of changing this structure over time, so the product can start using the Lean Start-up (DA calls it Exploratory) and in time can get into Scrum-based development (the DA calls it Agile Lifecycle) and when it starts to mature it can get into Lifecycle based in Kanban (DA calls it Lean: Continuous Delivery).
Team Roles and categorized in primary and secondary roles, so one team may just have few primary roles when they begin and over a period when the team starts growing, they can start adding additional roles.
A goal-oriented approach says an example, there are many ways to inspect and adapt to a group, a group can start by having a face-to-face meeting every day to evaluate and adapt and can later switch to electronic Kanban board. The language used by the DA has a Process Goal and you can have many options for achieving this goal to choose from.
Disciplined Agile is a hybrid approach, or we can say that it is a context sensitive approach, which can be applied at the enterprise level and not limited to the team for agility. So, it considered various possible challenges an
organization might be facing, organization business model and according to that context it provides a collection of options, good ideas which one can select from and can create their own context sensitive enterprise level ways of working framework.
"The Disciplined Agile (DA) tool kit supplies straightforward guidance to help you, your team, and your enterprise increase effectiveness. Apply and evolve your way of working (WoW) in a context-sensitive manner with this people-first, learning-oriented hybrid agile approach."
Source: https://www.pmi.org/disciplined-agile
You can know more about Disciplined Agile at PMI's official site : https://www.pmi.org/disciplined-agile/start-here
It might be also a good idea to attend and explore certification and training programs on Disciplined Agile. Here are two program which might be of your interest
Disciplined Agile Scrum Master (DASM): This program is designed for professionals who are new in Agile, it gives you context of Agile based development and also guides professionals on how Disciplined Agile context sensitive approach can be applied.
Disciplined Agile Senior Scrum Master (DASSM): This program is designed for experienced Agile professionals and requires some fundamental understanding of Disciplined Agile, it helps in getting into advanced topics of DA like Disciplined Agile DevOps, Value Stream, Metrics and measurement and Leadership.