PMP Q #39- Kanban Board and Throughput
Q39. The team uses on-demand scheduling. So below is the team's Kanban board at the end of the week. What is the team's throughput for the week?
A. 3
B. 5
C. 9
D. 11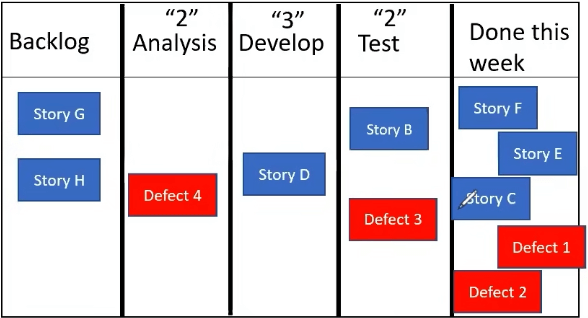 So here the question is about on-demand scheduling which is based on capacity and priority and the team "pulls" work from a queue. So what is the throughput here on the board? It is the measurement of the team's work that has moved from one stage to another stage over a certain time – day, week, or month.
You can see from this board what the team has done this week. So if you can find that from this board, done means completed in this particular week, that will be throughput, and the work will keep moving. So throughput is 5 (Option B) by counting the number of items completed at the Done stage.
In throughput, you count the number of items completed; you don't see the size of the work. If you count the amount of work done, it is velocity, not throughput.