Certified Scrum Master® (CSM) Training Virtual
26 – 27 September'20 (Online)
2:30 pm – 10:30 pm IST (GMT+5.5)
8 hrs – Sat & Sun : 2 Days
Trainer: Sekhar Burra
Price: INR 23000+18% GST
3 – 4 October'20 (Online)
3:00 pm – 11:00 pm IST (GMT+5.5)
8 hrs – Sat & Sun : 2 Days
Trainer: Sekhar Burra
Price: INR 23000+18% GST
Full money back if you don't like or unable to attend the class
Certified ScrumMaster® (CSM®) is a designation offered by Scrum Alliance. CSM® training prepares you for the critical role of Scrum Master in a scrum team. Scrum is the most used Agile methodology 85% of the worlds' Complex IT projects are done using Scrum. This certificate is ideal for you if you want to start your Agile and Scrum Journey. Led by an expert Certified Scrum Trainer, the extensive training will guide you in understanding the essence of a scrum, its process, methodology, scrum roles and responsibilities, scrum ceremonies, preparing you to succeed as a scrum master.
We offer a Certified Scrum Master (CSM®) virtual live session. The course is designed specifically for the professionals who are still passionate about building Scrum skills in the difficult situation of COVID-19. Our online live CSM® program would be an enriching experience to ensure that you have knowledge and understanding about the role of Scrum Master. You will be required to have approx. 20 hours of self-study for better understanding. It is recommended that one should complete the reading of theory before the session so that they can actively participate in all the activities and conversations. For all the participants, complete content is available at eLearning.izenbridge.com. We have an expert team of Agile coaches who guide you perfectly throughout the journey. To get Certified, one must attend live virtual sessions and clear the CSM® exam. Upon successful completion of the course, professionals will receive certification from the Scrum Alliance.
Agenda
The following will be the agenda for CSM® virtual training session:
Lean, Agile, and Scrum – This will include detailed knowledge of Scrum Roles, Scrum Events and Artifact Transparency, Sprint and Increment, Sprint Planning, Daily Scrum, Sprint Review, Sprint Retrospective, Product Backlog, Sprint Backlog, and Definition of "Done".
Scrum Master Core Competencies – This will include detailed knowledge of Facilitation and Coaching.
Service to the Development Team – This will include detailed knowledge of Scrum Master as Servant-Leader
Service to the Product Owner – This will include an explanation of ways the Scrum Master could support the Product Owner.
Service to the Organization – This will include detailed knowledge of Impediment Removal and Coaching the Organization.

Certification Process
The Certified Scrum Master® virtual program will be delivered via a webinar platform (Zoom). Once you enroll, you will receive an email with session details.
It will be mandatory to attend all the live sessions which will be highly interactive, with a lot of discussions and exercises to help you improve the skills. You must go through the lesson insights from our e-learning portal and clear the CSM® exam. Once all the above tasks have been completed, we will upload your details at Scrum Alliance's website. You will receive an email to give feedback about the course. Once done with the feedback, you will get an email to claim your certificate. Your CSM® certification will be received via email.
On successful completion of this training process, you will be awarded the designation of Certified Scrum Master (CSM®) by Scrum Alliance.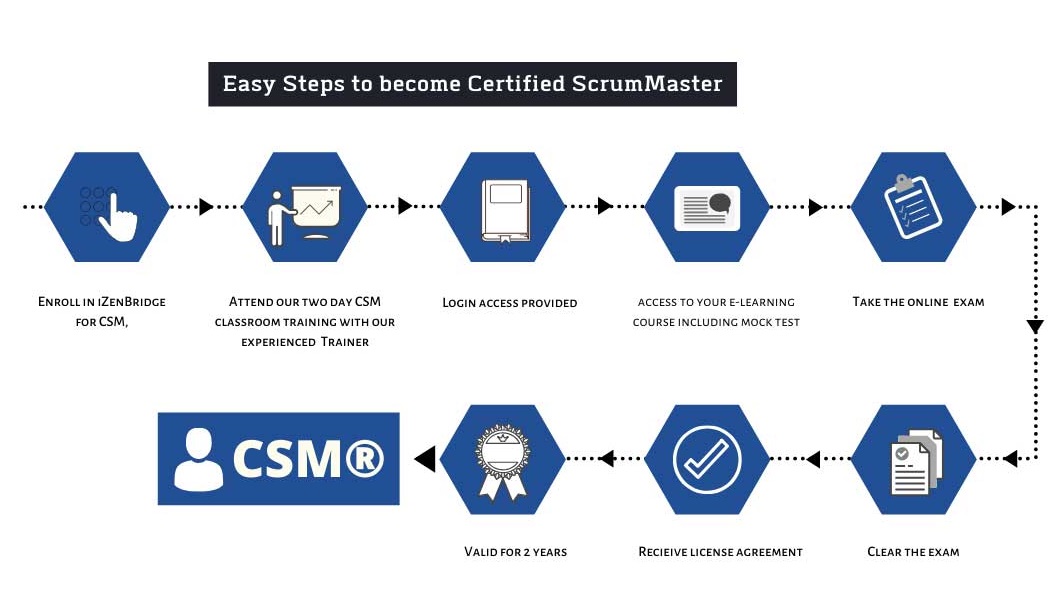 Upcoming Classroom Trainings
Who Should Attend
This workshop will be beneficial for:
Agile Coach
Product Owner
Release Managers
Scrum Masters
Portfolio Manager
Business Analyst
Product Managers
Software Developers
Project managers
Delivery managers
Program managers
New Scrum Team Members
Anybody who wants to learn Scrum
What will you get?
CSM® Online Training with 100% success rate
Training by an elite panel of Certified Scrum Trainers (CSTs)
Earn 30 PDUs
Earn 14 SEUs for renewal
100% Assured Scrum Alliance certification
2-year membership with Scrum Alliance
Online Scrum Master Program with 55 videos and 3 simulation tests
Complimentary access to E-Learning portal programs worth USD 200
Course Fee includes Scrum Alliance Certification Examination Fee
Continuous learning and support to advance your Scrum understanding
Full money back, if you don't like or unable to attend the class
Why CSM® with iZenBridge?
We are one of the best certification training providers in the world. Our CSM® virtual training will allow you to do this course from your desk. These live sessions will be highly interactive, with a lot of discussions and exercises to help you improve your skills. You will get a chance to freely share and discuss your challenges and experiences with the expert trainer and other global participants. You will also get the e-learning portal access for the CSM® course with two years of validity. We conduct doubt clarification webinars for a better understanding of all the concepts for our prestigious customers. Our Youtube channel includes hundreds of FREE videos to learn concepts in simple language. We also have 34,000+ youtube subscribers from more than 50 countries. Our courses are well recognized and receive 500+ enrollments every month. We believe in guiding our customers perfectly throughout the journey.
Q. Why should I go for CSM®?
A. CSM® – Certified Scrum Master is a Scrum Alliance credential. If you want to start your journey of learning Agile principles and the Scrum Framework, Scrum Master Certification is the first step.
Q. Do I have to appear for a CSM® exam to receive my certification?
A. Yes, as per the Scrum Alliance guidelines, you need to appear for the CSM® exam to become a Certified Scrum Master. To pass the exam, you need to correctly answer 37 out of the 50 questions within the 60-minute time limit. On successful completion, you will be awarded the designation of Certified Scrum Master (CSM®) by Scrum Alliance.
Q. What is the validity of CSM certification?
A. As per Scrum Alliance, the CSM® certificate is valid for two years. After two years, you can renew your certification by earning 20 SEUs.
Just after the CSM training ,we provide you access to our three online complimentary programs against which you will earn 14 SEUs. When you plan for the renewal of the CSM certificate after 2 years ,you will claim these 14 SEUs ( from our complimentary programs ) & we would further assist you to earn 6 more SEUs and you are done with 20 SEUs for renewal(14+6=20). No need to worry for the renewal as we are always available to support our clients.
Q. Do I need membership of Scrum Alliance to attend training for this certification?
A. No, this workshop provides you the membership of Scrum Alliance for 2 years.
Q. When can I take the test?
A. You will be able to take the test immediately after the workshop and the fee is covered in the course fee.
Q. Can I retake the test if I fail?
A. You will get two attempts within 90 days after you receive your welcome mail to pass the test at no cost. After two attempts or 90 days, you will be charged $25 for each additional attempt.
Q. Will I get any PDUs after your training program?
A. Yes, the students will get 30 PDUs towards PMI's PMP® / PMI-ACP® / PgMP® credential after the training program.
Q. What next after becoming a CSM®?
A. You can go for advanced certificates like CSP® or PMI-ACP®. We also provide support in getting you the same.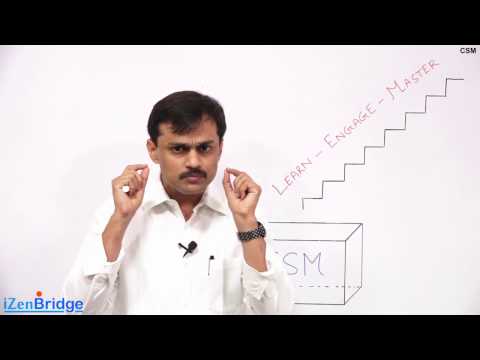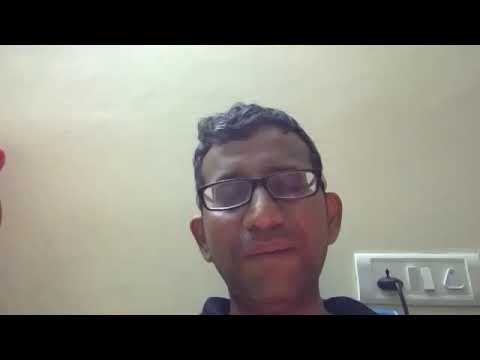 Practice of CSM questions can make your exam preparation complete, in our three step study plan we give good importance to practice step
Here are the 35 free questions which can strengthen your preparation and can help in identification of weak areas.
It's a free test. No login details required
No time constraints for completing the test
Check your scores and explanations directly after test
To know more about other city programs, kindly click below
CST , CEC, SPC4, Project Management Professional (PMP)® and Agile Certified Practitioner (PMI-ACP)® Certified
Sekhar's journey to transform the world of work, so that everyone enjoy coming to work everyday. He is an Enterprise Transformation Coach has over 18+ years primarily focused on building great teams that build great organizations, inculcating agile ways of working, lean thinking, promoting innovation and help leadership transitioning through change that enables business agility.
Training Schedules would support the time zones of the following Countries/Cities
US, Canada, UK, London, Australia, Melbourne, Sydney, Perth, Florida, New York, Washington, Seattle, Mississauga, Charlotte, Cairo, Columbia, Wellington, New Zealand, Fishers, Toronto, Germany, Denmark France, Chile, Santiago, Argentina, Poland, Portugal, Netherlands, Prague, Belgium, Sweden, Spain, Saudi Arabia, Riyadh, UAE, Dubai, South Africa, Egypt, Greece, South Africa, Turkey, Nigeria, Indonesia, India, Bangladesh, Singapore, Malaysia, Sri Lanka, Manila, Delhi, Gurgaon, Bangalore, Hyderabad, Chennai, Mumbai, Pune, Kolkata, Kerala, Kochi.
iZenBridge
Average rating:
0 reviews