Certified Scrum Master® (CSM) Training Online Virtual
Full money back if you don't like or unable to attend the class*
What is a Certified Scrum Master®?
Certified Scrum Master® (CSM®) is a designation offered by Scrum Alliance. Certified Scrum Master® is the number one choice among Scrum Certifications globally. CSM® training prepares you for the critical role of Scrum Master in a Scrum team by teaching you about the Scrum framework, principles, and values. Being a Certified Scrum Master, you will be able to guide your team through Scrum's accountabilities, events, and artifacts. The Certified ScrumMaster® (CSM®) training also gives you the confidence to successfully apply the Scrum framework in workplaces by which you can steer any project in the right direction.
Why become a Certified Scrum Master®?
85% of the worlds' complex IT projects are done using Scrum.
70% of professionals reported an improvement in their quality of work-life with Scrum. Source – State of Scrum Report 2017-18.
80% of Scrum Professionals Prefer CSM® Certificate. Source – State of Scrum Report 2017-18
The Certified Scrum Master® by Scrum Alliance is ideal for you if you want to start your Agile and Scrum Journey. Certified Scrum Master® training also makes Scrum Masters more sought-after and increases their earning potential. You will learn the new way of leading teams in our Certified Scrum Master® Workshop which is the best CSM training around the globe. The role of a Scrum Master is both rewarding and satisfying.
What does Certified Scrum Master® do?
As a Certified Scrum Master®, you will have below roles and responsibilities to:
Act as a cheerleader within their team.
Collaborate with the customer, get their feedback and create incremental value.
Ensure that the team follows Scrum Principles and values.
Coach the team on Scrum and take them through the change.
Establish an environment where the team can be effective.
Find methods to effectively manage the product backlog.
Help the Development Team to create high-value products.
Ensure that goals are understood by everyone in the Scrum Team.
Facilitate Scrum events whenever required.
Coach the Development Team in self-organization and cross-functionality.
Removal of project impediments that boost team productivity and performance.
Ensure a good relationship between the team, the product owner and others who are outside the team.
Certified Scrum Master® Online Session
We offer a Certified Scrum Master® (CSM®) virtual live session. Our online live CSM® program will be led by one of the best Certified Scrum Trainer, the extensive training will guide you in understanding the essence of a Scrum, its process, methodology, Scrum roles and responsibilities, Scrum ceremonies, preparing you to succeed as a Scrum Master. For all the participants, complete content is available at eLearning.izenbridge.com. We have an expert team of Agile coaches who guide you perfectly throughout the journey. To get Certified, one must attend live virtual sessions and clear the Certified Scrum Master® certification exam. Upon successful completion of the course, professionals will receive certification from the Scrum Alliance.
Learning Objectives
Lean, Agile, and Scrum: Scrum Roles, Scrum Events and Artifact Transparency, Sprint and Increment, Sprint Planning, Daily Scrum, Sprint Review, Sprint Retrospective, Product Backlog, Sprint Backlog & Definition of Done.
Scrum Master Core Competencies: Facilitation & Coaching
Service to the Development Team: Scrum Master as Servant-Leader
Service to the Product Owner
Service to the Organization: Impediment Removal & Coaching the Organization

How to become a Certified Scrum Master®?
The Certified Scrum Master® virtual program will be delivered via a webinar platform (Zoom). Once you enrol, you will receive an email with Certified Scrum Master® online session details.
Attend all the live sessions.
Go through the lesson insights from e-learning portal.
Clear the Certified Scrum Master® exam.
Give feedback about the course.
Claim your certificate.
Your CSM® certification will be received via email. On successful completion of this Certified Scrum Master® training process, you will be awarded the designation of Certified Scrum Master® (CSM®) by Scrum Alliance.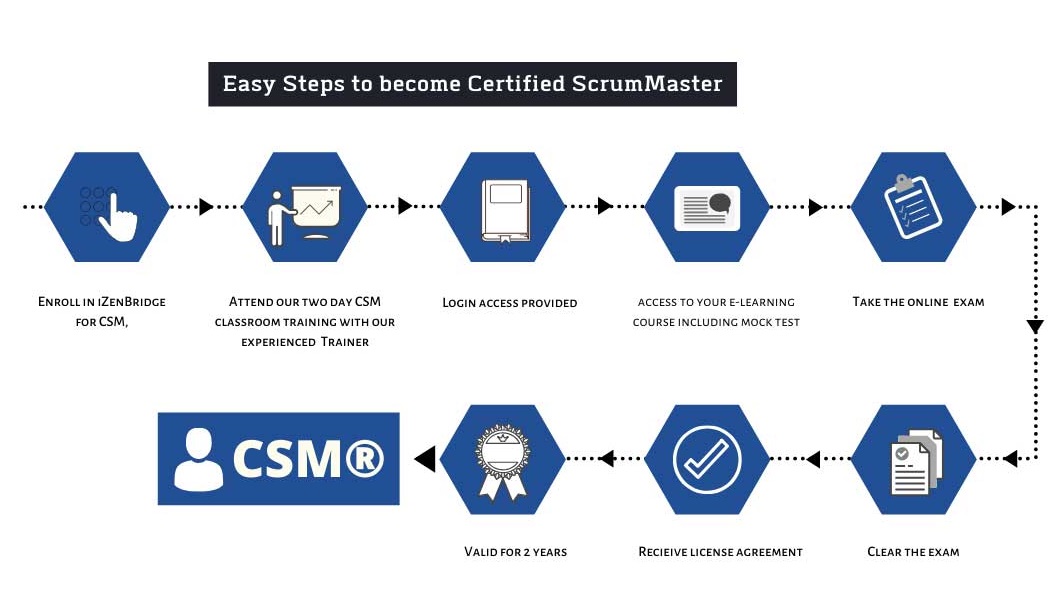 Who Should take Certified Scrum Master®?
This Certified Scrum Master® workshop will be beneficial for:
Agile Coach & Scrum Master
Product Owner
Release or Portfolio Manager
Business Analyst
Software Developers
Project or Delivery managers
Product or Program managers
New Scrum Team Members
Anybody who wants to learn Scrum
What will you get?
CSM® Online Training with 100% success rate
Training by an elite panel of Certified Scrum Trainers (CSTs)
Earn 30 PDUs
Earn 14 SEUs for renewal
100% Assured Scrum Alliance certification
2-year membership with Scrum Alliance
Online Scrum Master Program with 55 videos and 3 simulation tests
Complimentary access to E-Learning portal programs worth USD 200
Course Fee includes Scrum Alliance Certification Examination Fee
Continuous learning and support to advance your Scrum understanding
Full money back, if you don't like or unable to attend the class
Upcoming Virtual Trainings
Scrum Master Career Path
CSM® Exam Pattern
Name: Certified Scrum Master Exam
Format: Multiple Choice
Delivery: Web-based
Duration: 60 minutes (1 hour)
Number of Questions: 50
Passing score: 37 out of 50 i.e. 74% passing score
CSM® Examination Process
Attend our CSM® online Training with expert CST's. (All our trainers are Certified Scrum Trainers)
Continue learning with our CSM® E-learning Program.
CSM® test will be based on the CSM Content Outline Learning Objectives.
Take the Online CSM® Certification exam within 90 days.
You will get 2 attempts (1st attempt within 14 days ) to pass the CSM® exam.
Claim your Certification on Successful completion of the CSM® exam.
In case of failure, an additional attempt will be charged $25 for each after 2 attempts.
Why Certified Scrum Master® with iZenBridge?
"We stand to deliver a Continuous, enriching Learning experience to Scrum Masters beyond two days of CSM® certification training."
iZenBridge is your reliable partner for professional training and certification. Our training and certificates will always add a feather in your cap. Since 2012, we have trained thousands of professionals and companies across different countries. We believe in going beyond traditional presentations by sharing our broad and diverse expertise in implementation. You will receive pre-reading study material immediately after registering for the course. It is recommended that one should complete the reading of theory before the Certified Scrum Master® online training session so that they can actively participate in all the activities and conversations. Our CSM® certification and exam session is low on CSM® certification cost and high on the value that means it's a value for money Scrum Workshop. Everything you learn, you can apply to your job as a Scrum Master. We have an expert team of Agile coaches who will help you design a career path of your choice inside Agile and Scrum, help you grow faster in your career and also guide you perfectly throughout the CSM® journey.
Trained 5000+ professionals worldwide
Facilitated 100+ virtual sessions
Mentored professionals across 30+ countries
Experience the practical Scrum Workshop
Low on cost, high on value
Real-world support and grooming
Community support
Free webinars and Agile workshops
Certified Scrum Master® interview questions series videos
Special doubt clarification webinars
Free CSM® sample test access
Complete career path guidance in Scrum and Agile
Personal branding through blogging, webinars and workshops
100+ videos on our YouTube channel
40,000+ subscribers are getting the benefit
500+ enrollments every month
Full money back, if you don't like or unable to attend the class
Training Schedule With Global Timings
Q. Why Certified Scrum Master®?
A. CSM® – Certified Scrum Master® is a Scrum Alliance credential. If you want to start your journey of learning Agile principles and the Scrum Framework, Scrum Master Certification is the first step. Most of the organizations in India have already adopted Agile and Scrum that's why Certified Scrum Master® courses will help you accelerate your career.
Q. Do I have to appear for a Certified Scrum Master® online test to receive my certification?
A. Yes, as per the Scrum Alliance guidelines, you need to appear for the CSM® exam to become a Certified Scrum Master®. To pass the exam, you need to correctly answer 37 out of the 50 questions within the 60-minute time limit. On successful completion, you will be awarded the designation of Certified Scrum Master® (CSM®) by Scrum Alliance.
Q. What is the cost of CSM® Certification?
A. The CSM® Certification cost is $100, the CSM® training cost is separate.
Q. Does the Certified Scrum Master® course expire?
A. As per Scrum Alliance, the CSM® certificate is valid for two years. After two years, you can renew your certification by earning 20 SEUs.
Just after the CSM® training, we provide you access to our three online complimentary programs against which you will earn 14 SEUs. When you plan for the Certified Scrum Master® renewal after 2 years, you will claim these 14 SEUs ( from our complimentary programs ) & we would further assist you to earn 6 more SEUs and you are done with 20 SEUs for renewal(14+6=20). No need to worry for the Certified Scrum Master® certification renewal as we are always available to support our clients.
Q. Do I need membership of Scrum Alliance to attend training for this certification?
A. No, this workshop provides you with the membership of Scrum Alliance for 2 years.
Q. When can I take the Certified Scrum Master online exam?
A. You will be able to take the CSM® online exam immediately after the workshop and the Certified Scrum Master exam fee is covered in the course fee.
Q. Can I retake the Certified Scrum Master® test if I fail?
A. You will get two attempts within 90 days after the Training. After two attempts or 90 days, you will be charged $25 for each additional attempt.
Q. Will I get any PDUs after your training program?
A. Yes, the students will get 30 PDUs towards PMI's PMP® / PMI-ACP® / PgMP® credential after the training program.
Q. What next after becoming a Certified Scrum Master®?
A. After obtaining Certified Scrum Master® Certification, you can go for advanced certificates like CSP® or PMI-ACP®. We also provide support in getting you the same.
Q. Do you provide Job Assistance as well?
A. We do help the candidates in grooming themselves in the role of a Scrum Master. For that, you can access our:
Scrum Interview Guide – Top 50 Scrum Interview Questions and their answers for Free.
Scrum Quizzes – 50 Quizzes on Scrum to help you clear the pre-selection tests and clarifies your concepts on Scrum
Free Career Coaching – One to one sessions with our trainer to help you design the career of your choice.
Free PR and Networking Opportunities – You can write a blog on izenbridge or Discuss Agile portals.
All these activities are designed to create a personal brand which can make you visible; so that recruiters can spot you. We strive to create a great value for our CSM® participants with a lot of support and study material designed to give you an edge over your peers.
Q. What is Cancellation/Refund & reschedule policy for CSM certification
A.
All the cancellation and reschedule requests must be notified over email.
Requests received any time prior to class will get 100% refund. Within 7 working days.
After first day if you're unable to attend due to any emergency, we will reschedule your class for future.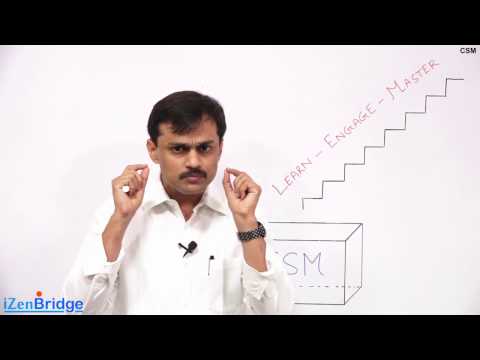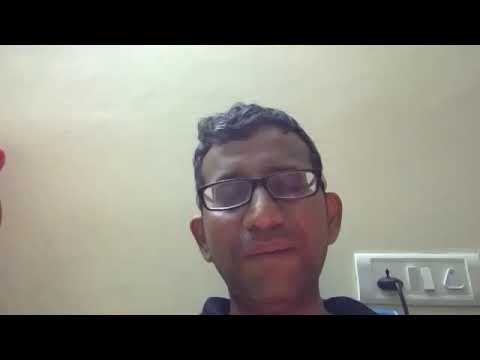 To know more about other city programs, kindly click below
Sekhar's journey to transform the world of work, so that everyone enjoy coming to work everyday. He is an Enterprise Transformation Coach has over 18+ years primarily focused on building great teams that build great organizations, inculcating agile ways of working, lean thinking, promoting innovation and help leadership transitioning through change that enables business agility.

Sekhar is a technocrat, management consultant and an Enterprise Agile Transformation Coach and has over 17 years of using methodologies from Waterfall to Agile.
He has several years of Agile experience as a developer, Scrum Master, Product Owner, plus leading and coaching various Agile teams.
A Certified Scrum Trainer (CST) from Scrum Alliance, trained over 20k+ professionals across various geographies and cultures, Certified Enterprise Coach (CEC), Certified Change Management Practitioner, Certified Less Practitioner, PMP and PMI-ACP.
An International Coach Federation Professional Certified Coach (ICF-PCC).
Organization and Relationship Systems Coaching (ORSC) Practitioner.
Currently serving on the review board of Scrum Alliance as a CEC Reviewer
A Certified Career Coach from Certified Coaches Alliance, NLP Practitioner and also an Executive Coach from Marshall Goldsmith Stakeholder Centric Coaching.
One of most the respected mentor coaches in the Agile community A well-known speaker across various regional, Global and International agile conferences.
A reviewer and contributor of the book titled- "The Human Side of Agile", and the "The Agile Mind-Set" authored by Gil Broza.
In the recent past, Sekhar was an active Enterprise Agile Coach at ADP, India and Paypal, India
Prior Roles: Executive Agile Coach, Scrum Master, Product Owner, Engineering Manager, Product Development Consultant
He is an engineering graduate and an MBA plus holds a PGCBM from XLRI Jamshedpur
CST, CSP, CSPO, CTC, CAL1, CCI, ICP-ACC, SPC 4.0, PMP, ACP, KMP-1, KMP-2, Gamification, Mgmt 3.0, Change Mgmt Practitioner (APMG)

Madhavi is a transformational enthusiast with a technology background. She has an end-to-end development experience with MS technologies. She has a keen interest in delivering customized workshops that include User Story, Product Owner, Scrum Master, Design Thinking, Release Planning & Portfolio workshops. She is passionate about building teams that are focused on the outcome instead of output. She also works with leadership & teams to guide them through transformation.
Training Schedules would support the time zones of the following Countries/Cities
US, Canada, UK, London, Australia, Melbourne, Sydney, Perth, Florida, New York, Washington, Seattle, Mississauga, Charlotte, Cairo, Columbia, Wellington, New Zealand, Fishers, Toronto, Germany, Denmark France, Chile, Santiago, Argentina, Poland, Portugal, Netherlands, Prague, Belgium, Sweden, Spain, Saudi Arabia, Riyadh, UAE, Dubai, South Africa, Egypt, Greece, South Africa, Turkey, Nigeria, Indonesia, India, Bangladesh, Singapore, Malaysia, Sri Lanka, Manila, Delhi, Gurgaon, Bangalore, Hyderabad, Chennai, Mumbai, Pune, Kolkata, Kerala, Kochi.
Cancellation/Refund & Reschedule Policy
We will refund the full amount if you are unable to attend the course and request a refund prior to the course start date.
If our session does not meet your expectations then you can request a refund immediately after attending the first session, we will issue a full refund.
You will not be eligible for a refund after attending more than one session.
You can change your batch at no additional cost at any moment before the session begins.
If you are unable to continue or complete the session for any reason, we will transfer you to a different batch of the same course at no charge.
iZenBridge
Average rating:
0 reviews