Why Certified Scrum Master®?
Certified Scrum Master® (CSM®) is a designation offered by Scrum Alliance. Half a million professionals have already earned a Certified Scrum Master®️ course till now. Among all the Scrum Certifications worldwide, the Certified Scrum Master® certification course is the number one choice so far. If you want to start your Agile and Scrum Journey, then CSM® is the best option for you. Being a CSM® certified professional, you will learn the new way of leading teams in Certified Scrum Master® (CSM®) course training sessions.
We have been successfully conducting CSM® certification training in Hyderabad for the last four years. According to the current scenario, the demand for Certified Scrum Master® is also growing in Hyderabad, Secunderabad, Warangal, Nizamabad, Raichur, Latur etc. Various companies such as Infosys, Tata Consultancy Services, Deloitte, Cognizant Technology Solutions, Amazon, Accenture, Wipro, Oracle, Tech Mahindra, Microsoft, Genpact, IBM, Capgemini, HCL Technologies, etc are hiring Certified Scrum Master's to grow their business. Our Certified Scrum Master® certification training is now also available in the online mode for the convenience of our esteemed customers.
Importance of Scrum
Scrum is an Agile framework that helps organizations meet diverse, evolving needs while delivering goods and services of high quality. Organizations who adapt to Scrum know how to respond faster and respond more specifically to the inevitable change that comes their way. The following advantages are mentioned by organizations that have implemented an Agile system like Scrum:
Increased ability to manage changing priorities
Higher customer satisfaction
Greater team morale
Increased collaboration and ownership
Improved progress visibility and exposure
Increased project control
Reduced risk of absolute project failure
With Agile and Scrum, organizations have experienced a better success rate. Certified Scrum Master® (CSM®) Hyderabad is the Number one Choice among Agile Scrum Master certification courses globally. 80% of Scrum Professionals Prefer CSM® Certificate. Our Certified Scrum Master® Certification Training in Hyderabad will help you learn the new way of leading teams in the organization.
What will you learn in the CSM® workshop?
In a Certified Scrum Master® certification Hyderabad session, you will learn:
Why and How to convince your management to start using Scrum.
Your Role as a Scrum Master.
Structure of Scrum Teams and various Scrum roles
Scrum Fundamentals – Values, Principles, Process, Ceremonies, Artifacts.
Scrum Reports, Iterations and feedback process.
Change management issues with Scrum and how to deal with them.
CSM® Roles and Responsibilities
Our Certified Scrum Master Training in Hyderabad is led by an expert Scrum Trainers approved by Scrum Alliance. As a Certified Scrum Master®, you will have below roles and responsibilities to:
Act as a cheerleader within their team.
Team up with the client, obtain their input and generate incremental value.
Make sure the team adheres the principles and values of Scrum.
Build an atmosphere where it is possible for the team to be effective.
Discover ways to handle the backlog of the product efficiently.
Ensure that everyone in the Scrum Team knows the targets.
Train the development team in cross-functionality and self-organization.
Removal of project challenges that increase the efficiency and performance of teams.
What is covered in the CSM® Training course?
Our Certified Scrum Master®️ workshop in Hyderabad is based on the Scrum Guide which is the founding document of Scrum. Scrum Alliance has defined new CSM® Learning objectives for Scrum Master in 2020.
The following will be the agenda for CSM® exam and certification virtual training session:

Lean, Agile, and Scrum –This will include detailed knowledge of Scrum Roles, Scrum Events and Artifact Transparency, Sprint and Increment, Sprint Planning, Daily Scrum, Sprint Review, Sprint Retrospective, Product Backlog, Sprint Backlog, and Definition of "Done".
Scrum Master Core Competencies – This will include detailed knowledge of Facilitation and Coaching.
Service to the Development Team – This will include detailed knowledge of Scrum Master as Servant-Leader
Service to the Product Owner – This will include an explanation of ways the Scrum Master could support the Product Owner.
Service to the Organization – This will include detailed knowledge of Impediment Removal and Coaching the Organization.
However, below the complete content outline of what is covered in two days of CSM® classes.
How our Certified Scrum Master®️ online training session is different?
"We stand to deliver a Continuous, enriching Learning experience to Scrum Masters beyond two days of CSM® certification Hyderabad training."
Practical Scrum Workshop – We want you to live the life of a Scrum Master for two days. Experience all real-life problems and real-life scenarios that you will deal with as a Scrum Master. Get expert answers from our CSTs.
Expert Agile Coach – It's good to learn from someone who understands you. Our Trainers have years of Experience coaching Agile teams in Hyderabad and around. You will be able to relate every example and case study they share in the class.
Low on Cost, High on Value – It's a value for money CSM® Certification Course In Hyderabad. Everything you learn, you can apply to your job as a scrum master.
Real-world support and grooming – CSM® training session, is the beginning of the new journey. There will be lots of challenges; change management is difficult. To accelerate the Scrum, you need continuous support. Our Scrum Trainers are always an email away when you need guidance. You can always keep referring our online Scrum program (Always updated)
Community Support – CSM® accreditation body focuses on learning via the community. You can learn a lot by sharing and by the experience of others. We have a thriving Discuss Agile Scrum user group which supports your continuous learning needs.
Interview Guide – Some Interview Questions are Tricky, others reflect your experience. We understand your first Scrum break is very critical. We have designed a Scrum Interview Guide; our video answers to frequent Scrum interview questions.
Continuous learning – Scrum Alliance stresses the need for continuous learning for Scrum Masters. We do tons of free webinars, live events, scrum and other agile workshops throughout the year. The topics of webinars and Agile workshops are your real-life scrum problems.
Personal Branding as a Scrum Master- The biggest job-hunting tips for Scrum Master is – Become Visible in the community. Share your knowledge via blogging, webinars, and workshops. We have platforms, motivation, support and everything that you need to grow as a Scrum Master.
A career path in Scrum and Agile – Scrum Master is an entry-level role. Once you are familiar with Scrum and successfully implement a few projects; you naturally aspire for the next level in Scrum. We help you design a career path of your choice inside Agile and Scrum to help you grow faster.
Upcoming CSM Classroom Trainings
CSM® Deliverables
There are several industry-friendly practices and environments created in and around Hyderabad that are making many companies to stay here for a long time. The largest incubation centre for start-ups in Hyderabad – T hub is also very famous, as here people walk in with an idea and walk out with a product or a solution promoting entrepreneurship. The government is also putting efforts to make Hyderabad the next Silicon Valley. Most of the Hyderabad companies are hiring CSM's as they help in managing the Scrum team by increasing productivity in the organization. In our CSM training, you will get the following:

CSM® Online Training with 100% success rate
Training by an elite panel of Certified Scrum Trainers (CSTs)
Earn 30 PDUs
Earn 14 SEUs for renewal
100% Assured Scrum Alliance certification
2-year membership with Scrum Alliance
Free Certified Scrum Master practice test
Online Scrum Master Program with 55 videos and 3 simulation tests
Complimentary access to E-Learning portal programs worth USD 200
Scrum Alliance Certification Course Fee includes CSM® Exam Fee
Continuous learning and support to advance your Scrum understanding
Full money back, if you don't like or unable to attend the class
Who Should Do Certified Scrum Master® Training?
Hyderabad is also commonly known as the "Cyberabad". There are various US-based companies that have established their operations in Hyderabad. Hence, CSM certification is highly in demand over here too. Certified Scrum Master® certification training in Hyderabad is recommended for:

Agile Coach & Scrum Master
Product Owner
Release or Portfolio Manager
Business Analyst
Software Developers
Project or Delivery managers
Product or Program managers
New Scrum Team Members
Anybody who wants to learn Scrum
Why Certified Scrum Master® with iZenBridge?
iZenBridge is your reliable partner for professional training and certification in Hyderabad. Our training and certificates will always add a feather in your cap. Since 2012, we have trained thousands of professionals and companies across different countries. We believe in going beyond traditional presentations by sharing our broad and diverse expertise in implementation. You will receive pre-reading study material immediately after registering for the course. It is recommended that one should complete the reading of theory before the Certified Scrum Master® online session so that they can actively participate in all the activities and conversations. Our CSM® certification and exam session is low on CSM® cost and high on the value that means it's a value for money Scrum Workshop. Everything you learn, you can apply to your job as a Scrum Master. We have an expert team of Agile coaches who will help you design a career path of your choice inside Agile and Scrum, help you grow faster in your career and also guide you perfectly throughout the CSM® journey.
Trained 5000+ professionals worldwide
Facilitated 100+ virtual sessions
Mentored professionals across 30+ countries
Experience the practical Scrum Workshop
Low on cost, high on value
Real-world support and grooming
Community support
Free webinars and Agile workshops
Certified Scrum Master® interview questions series videos
Special doubt clarification webinars
Free Certified Scrum Master® mock exam access
Complete career path guidance in Scrum and Agile
Personal branding through blogging, webinars and workshops
100+ videos on our YouTube channel
40,000+ subscribers are getting the benefit
500+ enrollments every month
Full money back, if you don't like or unable to attend the class
Certified Scrum Master® Online Live Certification Course in Hyderabad
Hyderabad is home to an Information Technology (IT) industry and a thriving startup culture. Hyderabad's IT sector is growing with the time because of the availability of proper infrastructure, skilled manpower, various technical education institutions, and a proactive local government. Hyderabad is also well known for its tourist destinations. There are many places to see in the city such as Charminar, Falaknuma Palace, Qutub Shahi Tombs, Golkonda fort, etc. Hyderabad is also famous for it's popular cuisine that is "Biryani". Indeed, various Startups in Hyderabad like Frissbi, SwoopTalent, Investopresto, Giveaway.ly, Labyrinth.io, Carsplus, InCights Mobile Solutions, Shipmile, Banyan Nation, Zero Meetings, Kaddy, Risk Edge Solutions, Sollet Soft Solutions, DataCurve, Servesy DotCom, and so on have also started gradually scaling up. Global multinationals such as Deloitte, Accenture, TCS, Capgemini, Novartis, Amazon, Microsoft, HCL Technologies, General Electric, Xilinx, WellsFargo, Genpact, Headstrong, ADP, Google, Oracle, Cybage, Citrix Systems, Bank of America, Thomson Reuters, DE Shaw, Salesforce, Dell, CommVault, CA Technologies, Qualcomm, Cognizant, CGI and so on, all have centres herein Hyderabad.
If you are planning to get Certified Scrum Master®️ certification training in Hyderabad, then you might be having a lot of questions which you need to be addressed before you can enrol in an upcoming class, of course our sales team is always there to answer any of your queries, here are some of the Frequently Asked Questions which you may like to go through.
Q: What is covered in two days of CSM® training program in Hyderabad?
A: The Certified Scrum Master®️ in Hyderabad prepares you for the role of a Scrum Master in your team. It's an entry-level CSM®️ training workshop. You can expect answers to the following questions in a Certified Scrum Master®️ training and certification workshop –
What is Scrum and how it's different from Traditional and other Agile Frameworks?
What are the core values of Scrum
When to use Scrum – Project complexity and other determining factors.
What are the different roles and responsibilities in a Scrum team?
What are different meetings and ceremonies in the Scrum – i.e. Daily stand-up, Sprint Review, Sprint Retrospective, and Release Planning
What are different artifacts in Scrum – Product Backlog, Sprint Backlog and Burndown Charts, etc
Q: How Do I Decide whether Scrum Master certification in Hyderabad is appropriate for me?
A: Scrum Master training in Hyderabad is for anyone who wishes to learn this new framework for project management. Most IT enterprises in India have already adopted Agile and Scrum, if you are working as an IT professional in companies like TCS, Wipro, IBM, Infosys, Sapient, HCL and other similar organizations, a great understanding of Agile & Scrum and Certified Scrum Master®️ Certification Live Virtual Training Workshop in Hyderabad can help you accelerate your career.
Q: What is the cost of a CSM® course?
A: The CSM®️ certification cost is $100, CSM®️ certification training cost is separate.
Q: What is the process of getting certification?
A: You need to attend 2 days of mandatory CSM® Training in Hyderabad and post that there would be a CSM® online exam.
Q: What is the exam pattern for the Certified Scrum Master® certification exam?
A: 50 Multiple-Choice Questions based on the Scrum Guide, there is no negative marking and will get 1 Hour to complete the CSM® online test and exam timer can not be paused as before, but the question can be bookmarked to answer later during the 1 Hour time limit.
Q: How many Attempts does one get to clear Certified Scrum Master® Exam?
A: Scrum Alliance gives you two attempts to clear the CSM® test, if you are unable to clear in two attempts, you can pay and take one more attempt.
Q: What is the passing percentage in the CSM® certification exam?
A: Passing percentage is 74. You get two attempts. CSM® exam is based on the Scrum guide and what is being taught in two days of Certified Scrum Master® workshop in Hyderabad.
Q: Do you provide Job Assistance as well?
A: By default, CSM® training Hyderabad workshops do not come with Job assistance. Though, we groom you for the role of a Scrum Master, here are some steps to grooming program which can accelerate your job search as Scrum Master –
Scrum Interview Guide – Top 50 Scrum Interview Questions and their answers. -Free
Scrum Quizzes – 50 Quizzes on Scrum, to help you clear the pre-selection tests, clarifies your concepts on Scrum
Free Career Coaching- We organize one to one sessions with our trainer to help you design a career of your choice. These sessions are free and exclusive to our customers.
Free PR and Networking Opportunities – You can write a blog on iZenBridge or Discuss Agile portals. You can also contribute to our YouTube channel, be a speaker to our next Scrum events in your city, take an online webinar which is broadcasted to our customers. All these activities are designed to create a personal brand which can make you visible; so that recruiters can spot you.
Q: There are so many Agile training institutes in Hyderabad, How are you different?
A: We are unlike any other Agile institutes. We only work with a selected set of Agile Trainers. After registering you will receive great online content, constant grooming for your next level of career in Agile, lots of free consulting and coaching over the lifetime. The partial answer to this question is also covered in the previous question.
Q: Which companies are offering Scrum Master jobs in Hyderabad?
A: Almost all IT companies are following Scrum and looking for people who can join their scrum teams as Scrum Master, Product Owner or an Agile Coach.  If you develop a good working understanding of Agile and Scrum, getting a Scrum Masters role is not that difficult in Hyderabad. Typically IBM, TCS, Infosys and Cognizant are considered the best payers for the Scrum Master profile in Hyderabad.
Q: Why is iZenbridge the best Scrum Master training provider in Hyderabad?
A: We strive to create a great value for our CSM® course Hyderabad participants with a lot of support and study material designed to give you an edge over your peers.
Q: What Other Agile training do you offer in Hyderabad?
A: iZenbridge offers a host of Agile Training for IT professionals in all major cities of India. Hundreds of professionals benefit from our online training sessions on Scaled Agile Framework, Agile Coaching, Kanban, Scrum Product Owner and Scrum Master workshops. Besides, we also offer an online program on PMI ACP and PMP®.
Q: What Other Agile Scrum Certifications do you recommend?
A:Agile and Scrum are ever-growing fields, there are different levels of Agile certification, you can choose them as you go up in your journey. CSM® certification training online, Hyderabad is considered to be a starting point in Agile. The next challenge is to get an active role in a Scrum team or start a fresh implementation in your organization. In both the cases, you would need a particular set of skills such as facilitation, team building, servant leadership, communication along with a deeper understanding of the Scrum philosophy. Though, we try to equip you with enough knowledge and understanding to lead implementation in your organization; getting structured CSM® Certification Training Online in a few areas is always helpful.
Here is a table of different certifications and their value for an IT professional –
| | | |
| --- | --- | --- |
| Certification name | Body | Purpose |
| CSM® | Scrum Alliance | Go for a Scrum Master role |
| CSPO® | Scrum Alliance | Go for a Product Owner role |
| SAFe® Agilist | Scaled Agile Academy | Scaling Agile and Scrum to bigger teams, enterprise level. |
| PMI-ACP | PMI | Understanding Agile from a Project Manager's point of view. Lead Agile transformation in your team. |
| A-CSM® | Scrum Alliance | Next Level after your CSM certification training program. Takes you deeper in the Scrum framework. |
| CSP-SM® | Scrum Alliance | CSP-SM® is like a master's degree in Scrum. |
| Kanban | Lean Kanban University | Kanban is an alternate framework of Agile. You can mix with Scrum to create scrumban, and lead the team towards better productivity. |
| PMP® | PMI | Not an Agile certificate, the PMBOK® 6 has a limited flavour of Agile. Good for traditional project management methodologies |
Q: How Do I Choose the best training for CSM® certification training in Hyderabad?
A: There is no one parameter for choosing the best Certified Scrum Master® training. Primarily you should look at these factors while choosing a training provider. If you follow this process, you will be able to choose the best institute for CSM® training in Hyderabad.
Criteria
Add provider of your choice here
iZenBridge
Does the training provider provide regular learning opportunities for free or minimal cost?
Yes, we do regular web and face to face community events
Do they help me design a certification path?
We work with each participant to address their CSM® course certification needs and design a path for them.
Does your training provider give access to a community after the training?
Yes, we have the most active and vibrant Scrum User group in Asia. This group is open to all our CSM®professionals. We have close to 5000 active members from India who regularly blog and connect with other participants in the group.
Can they support me in meeting my future training needs?
We have the most extensive Agile product portfolio in India. All CSM® certification course customers get special prices when they join our other workshops in future.
Do they provide some pre-training material? What kind of content is it?
We will offer you an eLearning program approved by Scrum Alliance. You will also receive a Scrum guide when you enrol for this CSM® learning course. To broaden your spectrum of knowledge, we offer you a free program on Agile mindset and Kanban as well.
Do they provide career grooming?
Getting a Scrum role immediately after your CSM® Training and Certification Course is critical for multiple reasons.

You get to practice what you learned in class.
It helps you build the foundation of your Agile career.

iZenBridge works to strengthen your portfolio, we give you 50 interview questions explained by an expert. We also have a Scrum quiz to help you score better in pre selection tests. If you need help with your CV we can support you there as well.

Besides, there are multiple communities which can support you in getting a role of Scrum Masters. All our participants are invited to join a private facebook group of Scrum Masters in India.

Can I reach knowledge experts from provider to clarify doubts
Yes, you can do it via phone / mail / forum and in face to face events.
Does the provider help in getting CSP (Certified Scrum Professional)
Yes,We support you in getting the next level of certification in Scrum. We have support available till the level upto Certified Scrum Trainer.
Do they have a CSM® sample test?
iZenBridge offers you 50+ Short quizzes and two full length exams to practice for your Scrum test.
Q: Does your CSM® Hyderabad training cover Agile methodology?
A: Scrum is one of the frameworks under Agile methodology and is used by 80% companies who are using Agile. This is a focused training on Scrum and the role of a Scrum Master within a team. In order to develop a broader understanding of Agile, we give you a complimentary program on Agile mindset along with the CSM® course package. If you need further understanding, you may explore our free program on Agile and Scrum which covers the Agile methodology in detail.
Q: How much does each Agile certification cost?
A: Here is a list of certifications and its price.
| | |
| --- | --- |
| Certificate name | Cost |
| Certified Scrum Master | 20000 to 25000 including certificates. |
| Certified Scrum Product Owner | 20000 to 25000 including certificates. |
| Leading SAFe | 52000 to 55000 including certificates. |
| PMI-ACP | 7000 for online training and up to 10000 excluding certificates. |
| Agile coaching | The cost of an Agile coaching program is around 25000 to 30000 including the cost of certification. |
Q: What is the average Scrum Master salary? Who are the best payers?
A: A Scrum Master salary would vary according to the experience and profile. As per Payscale data, a Scrum Master median salary in Hyderabad is around 1115000 Indian Rupees.

Q: How and where do I access the Scrum Master interview questions?
A: You can subscribe to our Scrum Master interview guide on YouTube. It's a collection of top 50 questions asked in a Scrum Master interview. We have created short videos explaining the answers in an easy to understand format.
Q: What is the difference between PMI-ACP and Certified Scrum Master®?
A: Both certificates are great and exist for a different purpose. PMI-ACP is perhaps the most valued Agile certificate globally. Here is a brief comparison between both the certificates
| | | |
| --- | --- | --- |
| | PMI-ACP | CSM® |
| Global Recognition | Yes | Yes |
| Certification body | Project Management institute | Scrum Alliance |
| Content focus | Covers the entire Agile methodology including the frameworks like Scrum, Kanban, extreme programming, TDD, BDD etc. | Focuses only on Scrum and goes in depth in the role of a Scrum Master. |
| Roles to expect after the certification | Agile Project Manager, Project Manager, Agile Delivery Manager etc. | Scrum Master, Scrum coach, Agile Coach, Scrum Team Member, Scrum Product Owner etc. |
| Exam Difficulty | Medium | Easy |
| Exam Pattern | Objective type | Objective type |
| Cost | Around INR 10000 for training and $495 for the certification | Around 25-28000 INR for both training and certification. |
| Training Format | Both online and classroom | Both online and classroom |
Q: Can I do Certified Scrum Master® certification online?
A: Yes, you can attend two days of CSM® certification in Hyderabad. It's mandatory to attend a two-day training facilitated by a CST, and then clear the CSM® exam after you have completed the Certified Scrum Master training workshop in Hyderabad.
Q: Do you provide CSM® certification and training dumps? How will I clear the CSM® exam?
A: We offer you close to 50 Scrum Quizzes which are free and comprehensive. You can practice with these quizzes before going for the actual CSM® exam. Typically, our CSM® training participants score close to 90% or more in their exams and we have a 100% pass record.
Q: Which Agile Certification is best and why?
A: This is a subjective question. There is no clear one answer which can satisfy you. If you go by the rate of adoption, Scrum is used by our 70% companies for developing their complex IT projects. The latest Scrum report suggests that 64% of the companies who are using agile recommend CSM® certification training courses or CSPO® certificates to their professionals. PMI ACP and Scaled Agile Frameworks are also widely adopted in the IT Industry, if you have plans to continue in Scrum and create a successful career for yourself, then choosing multiple certificates is important.
That is the reason why we help you create a career roadmap, and suggest certificates which can help you in your career as you go up in the ladder. Typically, a Certified Master® certification coupled with the Scaled Agile and Agile Coaching works best in Indian IT Industry.
Q: What is difference between Professional Scrum Master® (PSM®) and Certified Scrum Master® (CSM®)
A: Both PSM® and CSM® are globally recognized certificates. Here is a quick comparison to help you understand the difference –
| | | |
| --- | --- | --- |
| | CSM® | PSM® |
| Certifying body | Scrum Alliance | Scrum.org |
| Mode of training | Classroom/offline | Online and offline both |
| Training mandatory | Yes | No |
| Exam Pattern | Objective type questions | Objective type questions |
| Cost | Around 24-30K INR | Around 24-30K INR |
| Renewal and validity | Validity for two years. Then CSM® certification renewal of $100 | Lifetime validity. No renewal required |
| Community support in India | Yes, an Engaged Scrum Community | Not a large community yet. |
| Recruiter magnet | Yes | Yes |
| Next Level | CSP-CEC-CAL-CST | PSM II |
CSM Training Testimonials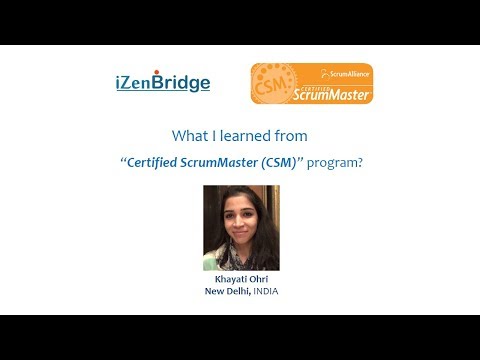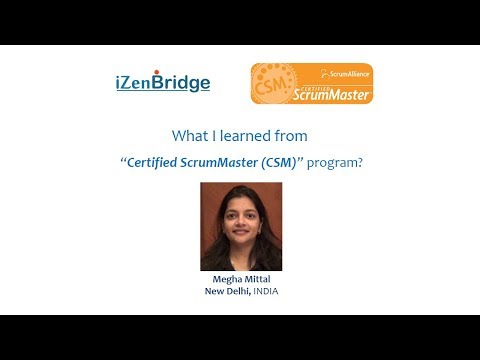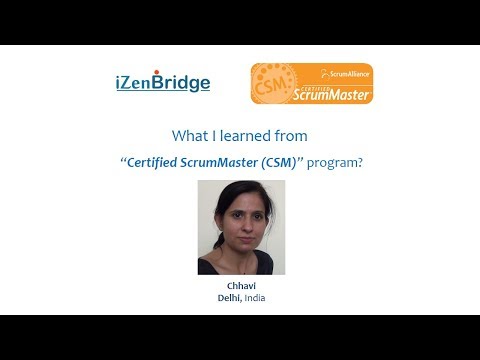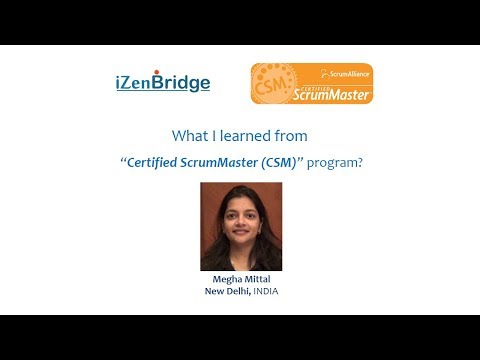 CSM® Free Practice Test
Practice of CSM® questions can make your exam preparation complete, in our three step study plan we give good importance to practice.
Here are the 10 free questions which can strengthen your preparation and can help in identification of weak areas.
It's a online CSM® test.
No time constraints for completing the test
Check your scores and explanations directly after test
CST, CSP, CSPO, CTC, CAL1, CCI, ICP-ACC, SPC 4.0, PMP, ACP, KMP-1, KMP-2, Gamification, Mgmt 3.0, Change Mgmt Practitioner (APMG)

Madhavi is a transformational enthusiast with a technology background. She has an end-to-end development experience with MS technologies. She has a keen interest in delivering customized workshops that include User Story, Product Owner, Scrum Master, Design Thinking, Release Planning & Portfolio workshops. She is passionate about building teams that are focused on the outcome instead of output. She also works with leadership & teams to guide them through transformation.
Sekhar's journey to transform the world of work, so that everyone enjoy coming to work everyday. He is an Enterprise Transformation Coach has over 18+ years primarily focused on building great teams that build great organizations, inculcating agile ways of working, lean thinking, promoting innovation and help leadership transitioning through change that enables business agility.

Sekhar is a technocrat, management consultant and an Enterprise Agile Transformation Coach and has over 17 years of using methodologies from Waterfall to Agile.
He has several years of Agile experience as a developer, Scrum Master, Product Owner, plus leading and coaching various Agile teams.
A Certified Scrum Trainer (CST) from Scrum Alliance, trained over 20k+ professionals across various geographies and cultures, Certified Enterprise Coach (CEC), Certified Change Management Practitioner, Certified Less Practitioner, PMP and PMI-ACP.
An International Coach Federation Professional Certified Coach (ICF-PCC).
Organization and Relationship Systems Coaching (ORSC) Practitioner.
Currently serving on the review board of Scrum Alliance as a CEC Reviewer
A Certified Career Coach from Certified Coaches Alliance, NLP Practitioner and also an Executive Coach from Marshall Goldsmith Stakeholder Centric Coaching.
One of most the respected mentor coaches in the Agile community A well-known speaker across various regional, Global and International agile conferences.
A reviewer and contributor of the book titled- "The Human Side of Agile", and the "The Agile Mind-Set" authored by Gil Broza.
In the recent past, Sekhar was an active Enterprise Agile Coach at ADP, India and Paypal, India
Prior Roles: Executive Agile Coach, Scrum Master, Product Owner, Engineering Manager, Product Development Consultant
He is an engineering graduate and an MBA plus holds a PGCBM from XLRI Jamshedpur
iZenBridge
Average rating:
1 reviews
Aug 31, 2018
Excellent Sessions
Linkedin Profile:
padmajanadiger@gmail.com
I attended the sessions in hyderabad and the experience was amazing. Shekhar is excellent in holding your attention and kept the session engaging through out both days. One can clear the certification simply by focusing in the class. The additional material shared at the end is an added advantage.