Certified Scrum Master®️ (CSM®) Virtual Training Chennai
Upcoming Schedule

DATE

TIME

TRAINER

PRICE

10, 11 & 12 November'21 (5 hrs – Wed, Thur & Fri)
6:00 am – 11:00 am IST
Madhavi Ledalla
INR

21999/-

19999+Tax
27, 28 & 29 October'21 (5 hrs – Wed, Thur & Fri)
6:00 am – 11:00 am IST
Madhavi Ledalla
INR

21999/-

19999+Tax
30 – 31 October'21 (8 hrs – Sat & Sun)
3:00 pm – 11:00 pm IST
Sekhar Burra
INR

21999/-

19999+Tax
6, 7 & 8 November'21 (5 hrs – Sat, Sun & Mon)
6:00 am – 11:00 am IST
Madhavi Ledalla
INR

21999/-

19999+Tax
28, 29 & 30 January'22 (5 hrs – Fri, Sat & Sun)
6:00 AM – 11:00 AM IST
Madhavi Ledalla
INR

23599/-

19999+Tax
4, 5 & 6 February'22 (5 hrs – Fri, Sat & Sun)
6:00 am – 11:00 am IST
Madhavi Ledalla
INR

23599/-

19999+Tax
5 – 6 February'22 (8 hrs – Sat & Sun)
3:30 pm – 11:30 pm IST
Sekhar Burra
INR

23599/-

19999+Tax
12 – 13 February'21 (8 hrs – Sat & Sun)
3:30 pm – 11:30 pm IST
Sekhar Burra
INR

23599/-

19999+Tax
19 – 20 February'22 (8 hrs – Sat & Sun)
3:30 pm – 11:30 pm IST
Sekhar Burra
INR

23599/-

19999+Tax
23, 24 & 25 February'22 (5 hrs – Wed, Thur & Fri)
6:00 AM – 11:00 AM IST
Madhavi Ledalla
INR

23599/-

19999+Tax
26 – 27 February'22 (8 hrs – Sat & Sun)
3:30 pm – 11:30 pm IST
Sekhar Burra
INR

23599/-

19999+Tax
4, 5 & 6 March'22 (5 hrs – Fri, Sat & Sun)
6:00 am – 11:00 am IST
Madhavi Ledalla
INR

23599/-

19999+Tax
16, 17 & 18 March'22 (5 hrs – Wed, Thur & Fri)
6:00 am – 11:00 am IST
Madhavi Ledalla
INR

23599/-

19999+Tax
20, 21 & 22 April'22 (5 hrs – Wed, Thur & Fri)
6:00 AM – 11:00 AM IST
Madhavi Ledalla
INR

23599/-

19999+Tax
Why is Certified Scrum Master® the need of the hour?
Certified Scrum Master® in Chennai is among the popular IT certifications. More than half a million professionals got CSM® Certified till now. Digital Transformation is a global phenomenon, the requirement for faster turnarounds, user-friendly platforms, and flexible goals are ever-increasing.The modern business cannot survive with the traditional methods, the need to serve steadily growing business demand means the solution and the business teams require an Agile Workflow and Agile Solution.
"As the time gets tough, the Scrum gets you going"
"Any organization that does not go through an Agile transformation will die. It is the same as a company refusing to use computers. Agile is all about fast feedback and thus fast learning. In today's complex world those organizations win that learn the fastest."
Sohrab Salimi, CIO State of Scrum report
We have been successfully conducting CSM® certification training in Chennai for the last few years. According to the current scenario, the demand for Certified Scrum Master® is also growing in Chennai, Tirupati, Pondicherry, Nellore, etc. Various companies such as Accenture, BirlaSoft, Capgemini, Cognizant, HCL Technologies, Infosys, Tech Mahindra, Oracle, Syntel, TCS, Wipro, etc are hiring Certified Scrum Master's to grow their business. Our Certified Scrum Master® certification training is now also available in the online mode for the convenience of our esteemed customers.
Certified Scrum Master® Certification Online Session
Our Certified Scrum Master®️ certification course workshops in Chennai are Delivered by Expert CSTs. We have a team of expert Agile coaches who guide you on the Scrum path. It's a fun-filled workshop where you experience various challenges that a Scrum Master has to face in his day to day life. We also offer you a complimentary online Scrum Master certification course which ensures that you have a rich understanding of Scrum even before joining the class. The two-day of Certified Scrum Master®️ Certification Live Virtual Training in Chennai would be an enriching experience if you attend this after going through the online program. We train 500+ professionals every month. An expert Agile coach who understands the local Scrum environment, professional aspiration and can also speak in your regional language; Tamil (தமிழ்).
What is covered in CSM® training course certification?
The CSM® Certification Training Course is based on Scrum Master learning objectives 2020 as defined by Scrum Alliance. Broadly a CSM® Chennai workshop covers the role of a Scrum Master along with Scrum and Agile fundamentals. The CSM® Learning Objectives fall into the following categories:
Lean, Agile and Scrum
Scrum Master Core Competencies
Service to the Development Team
Service to the Development Team
Service to the Organization
For more information, you may download the complete document from by filling up this form:
Who Should Take Certified Scrum Master® Chennai Session?
Chennai is also commonly known as the "Gateway of South India" with a city of a vast pool of opportunities for young India. After Bangalore, Chennai is considered to be India's next IT Hub for future IT professionals. Hence, CSM certification is highly in demand over here too. Certified Scrum Master® certification training in Chennai is recommended for:
Agile Coach & Scrum Master
Product Owner
Release or Portfolio Manager
Business Analyst
Software Developers
Project or Delivery managers
Product or Program managers
New Scrum Team Members
Anybody who wants to learn Scrum
Deliverables from our CSM® Certification Chennai
Chennai corporate world gives you exposure to the latest demands and current market trends. With training and skills development, IT companies in Chennai also take care of an employee in all aspects. They build up your overall personality, make you more advanced and tech-savvy. Most of the Chennai companies are hiring CSM's as they help in managing the Scrum team by increasing productivity in the organization. In our CSM training, you will get the following:
CSM® Online Training with 100% success rate
Training by an elite panel of Certified Scrum Trainers (CSTs)
Earn 30 PDUs
Earn 14 SEUs for renewal
100% Assured Scrum Alliance certification
2-year membership with Scrum Alliance
Online Scrum Master Program with 55 videos and 3 simulation tests
Complimentary access to E-Learning portal programs worth USD 200
Course Fee includes Scrum Alliance Certification Examination Fee
Continuous learning and support to advance your Scrum understanding
Full money back, if you don't like or unable to attend the class
An Active CSM® community to support your growth –
Chennai is a hub of software majors like TCS, Barclays, IBM, Capgemini, Cognizant, Bank of America, ADP along with a buzzing start-up environment.
iZenBridge has an active user base and through our Scrum Alliance Chennai User Group Discuss Agile, we engage with lots of Scrum Masters through our offline meetups, webinars, learning and networking events and an annual conference to deliver a continuous learning experience.
"We stand to deliver a Continuous, enriching Learning experience to Scrum Masters beyond 2 days of Certified Scrum Master®️ training".
How to grow with Certified Scrum Master®️?
Your Association with iZenBridge is for a lifetime. Certified Scrum Master®️ certification training in Chennai is just the beginning, by staying connected you can earn Scrum Education Units, attend free Agile webinars and workshops, and connect with the local community of Scrum Masters in Chennai. We will keep supporting you through your Agile journey. A great Agile career needs a greater foundation, with our association you can get to the next level of Agile by becoming a Scaled Agile Professional, An Agile Coach or explore the alternative Agile approaches like Kanban and Disciplined Agile Delivery and Agile Project Management.
Upcoming Virtual Trainings
Why a CSM® workshop with iZenBridge?
"We stand to deliver a Continuous, enriching Learning experience to Scrum Masters beyond two days of CSM® certification training."
iZenBridge is your reliable partner for professional training and certification. Our training and certificates will always add a feather in your cap. Since 2012, we have trained thousands of professionals and companies across different countries. We believe in going beyond traditional presentations by sharing our broad and diverse expertise in implementation. You will receive pre-reading study material immediately after registering for the course. It is recommended that one should complete the reading of theory before the Certified Scrum Master® online training session so that they can actively participate in all the activities and conversations. Our CSM® certification and exam session is low on CSM® certification cost and high on the value that means it's a value for money Scrum Workshop. Everything you learn, you can apply to your job as a Scrum Master. We have an expert team of Agile coaches who will help you design a career path of your choice inside Agile and Scrum, help you grow faster in your career and also guide you perfectly throughout the CSM® journey.
Trained 5000+ professionals worldwide
Facilitated 100+ virtual sessions
Mentored professionals across 30+ countries
Experience the practical Scrum Workshop
Low on cost, high on value
Real-world support and grooming
Community support
Free webinars and Agile workshops
Certified Scrum Master® interview questions series videos
Special doubt clarification webinars
Free CSM® sample test access
Complete career path guidance in Scrum and Agile
Personal branding through blogging, webinars and workshops
100+ videos on our YouTube channel
40,000+ subscribers are getting the benefit
500+ enrollments every month
Full money back, if you don't like or unable to attend the class
Certified Scrum Master® Online Live Certification Course in Chennai
Chennai has become the hub for software and IT companies over the last few years. Many IT companies have sprung up in Chennai, making it one of the most wanted cities for techies. It is also a home to one of the world's oldest living classical "Tamil" languages. Chennai's Marina Beach is also the second-longest urban beach in the world. Chennai hosts one of the world's largest music festivals. It is also one of India's safest cities for women. Indeed, various Startups in Chennai like Freshdesk, BankBazaar.com, Chargebee, YELDI Softcom, CaratLane, OrangeScape, Bharatmatrimony, Fourkites, Wsquare, Terragreens Organic, Snack Experts, Lawbot.ai, Flintobox, Ovenfresh, Tendercuts, Fuel Book Technology, Energy, Pipecandy, GoBumpr, Uniphore, FixNix, Vortex Engineering, Immi Life, Proklean Technologies, and so on have also started gradually scaling up. Global multinationals such as Accenture, BirlaSoft, Capgemini, Cognizant, HCL Technologies, Infosys, Tech Mahindra, MindTree, Oracle, Syntel, Tata Consultancy Services, Nokia, PayPal India Pvt Ltd, HTC Global Services, Dell International, HP Enterprise, and so on, all have centers herein Chennai.
CSM FAQs
Q. Why should I go for Certified Scrum Master® Certification Training in Chennai?
A. CSM® – Certified Scrum Master® is a Scrum Alliance credential. If you want to start your journey of learning Agile principles and the Scrum Framework, CSM® training program is the first step. The two days of Scrum master training in Chennai teaches on Scrum fundamentals and helps you start your Agile journey.
Q. Will I get any PDUs after the CSM® certification training online Chennai?
A. Yes, the students will get 16 Category "A" PDUs towards PMI's PMP® / PMI-ACP® / PgMP® credential after training program.
| | | | | |
| --- | --- | --- | --- | --- |
| | Total | Technical | Leadership | Strategic |
| PMP | 16 | 10 | 4 | 2 |
| PgMP | 16 | 10 | 4 | 2 |
| PMI-RMP | 16 | 0 | 4 | 2 |
| PMI-ACP | 16 | 10 | 4 | 2 |
| PMI Pba | 16 | 10 | 4 | 2 |
PDUs from online program on Scrum Agile and Kanban (Complimentary with CSM® learning course)
| | | | | |
| --- | --- | --- | --- | --- |
| | Total | Technical | Leadership | Strategic |
| PMP | 6 | 2 | 3 | 1 |
| PgMP | 6 | 2 | 3 | 1 |
| PMI-RMP | 4 | 0 | 3 | 1 |
| PMI-ACP | 6 | 2 | 3 | 1 |
| PMI Pba | 6 | 2 | 3 | 1 |
Q. Do I need membership of Scrum Alliance to attend training for this certification?
A. No, this CSM® certification and exam workshop provides you the membership of Scrum Alliance for 2 years. When you renew your CSM® certificate the membership of Scrum Alliance is also renewed for the similar period. Alternatively, you can choose the next level of Agile certifications, like Scrum Product Owner, Certified Agile leader or CSP to add more duration to your Scrum Alliance membership.
Q. How does Scrum Alliance membership help me as a CSM® Professional?
A. The Scrum Alliance membership adds great value to active Scrum Masters. It gives you access to the entire community of Certified Scrum Professionals (CSM®, CSPO®, and CSP etc), Trainers, Agile coaches. This is one of the greatest and largest Scrum communities. You can also join the Certified Scrum Master® LInkedin Group which is quite active. The CSM® accreditation body community portal also allows companies to post job openings on their job board. You can directly apply to various open Scrum roles. Here is the checklist to get best out of your Scrum Alliance Membership –
Add new articles/ case studies and other learnings on Scrum Alliance community blog
Create, maintain and promote your own Scrum User Group (A Local Chapter of Scrum Enthusiasts).
You can also join the active user groups of your area (Discuss Agile Chennai is one such group) and start participating in various activities.
Connect respectfully with other members, participate in active forums, and other discussions.
Share your learning and help the members (Your efforts will be recognized and appreciated by the community).
Participate in regional and international Scrum gatherings.
Q. How Do I Take the CSM® Online Test?
A. Participants are often worried about completing the Certified Scrum Master® certification exam and getting certified once they have completed the training. Once you have completed the CSM® certification in Chennai, your Certified Scrum Trainer (CST) will collect your attendance information and will submit your data on Scrum Alliance. The CST also has to deposit the CSM® exam fee to Scrum Alliance (It's included in your CSM® certification cost). Once the fee is submitted, the CSM® certification exam link is generated and shared on your email ID.
You can confirm your login details and start the online exam whenever you are prepared. You will get 14 days from the first day of your Certified Scrum Master® Training in chennai to complete the online exam. We recommend that you do not hurry and take your time in practicing with the mock exams provided by iZenBridge in our online program on Scrum. If you take the exam after a thorough practice you can exert a better score in the CSM® training session exam.
You will get two attempts to clear the certification, most of our participants clear in the first attempt itself.
Q. When can I take the CSM® test?
A. You need 14 days after your training to complete the online exam for CSM® certification course in Chennai. As soon as you are confident of clearing the Certified Scrum Master® Training in Chennai and have scored good in the mock exam, it's time to complete the CSM® certification exam and get certified.
Q. Can I retake the online CSM® test if I fail?
A. Yes. You get two attempts for the CSM® exam. If you are unable to clear the CSM® Certification exam, you can reattempt.
Q. What are the career opportunities for CSM® training and certification?
A. Chennai is one of the major IT destinations of India. There are 4000+ Bigger enterprises and close to 8200 Small and medium companies operating in Chennai. Almost 60% of big enterprises are using Agile and constantly need CSM® certified professionals to take various roles. Here are few companies in Chennai who are considered to be good paymasters for Scrum roles.
Perficient India Private Limited
Sopra Steria India Ltd
Cognizant
Accenture
CES,
Bankbazar
Transunion
Fidelty
HCL
Q. How do I choose my training provider for the Certified Scrum Master® workshop in Chennai?
A. CSM® Training Workshop in Chennai if done correctly could be a game changer. It can give a boost to your IT Career and offer you a completely different direction with growth and new opportunities.
Here are a few thumb rules that you can keep in mind while selecting a CSM® training in Chennai.
The CSM® Certification Training in Chennai can only be delivered by Certified Scrum Trainers. Make sure his profile is visible on Scrum Alliance. Never register for a training where the trainer profile is not known.
Only go for a Registered Education Provider, they offer a host of benefits like, additional Scrum Education Units, support during your CSM® course certification Renewal, also if you need some help in interacting with Scrum Alliance regarding your profile, they can support them there too.
Opt for a training where you are offered an online program as well. You need to refer to online content for a long term understanding of Scrum. Just two days training will not be enough to get started in Scrum.
Also, look for a company which can take care of your future certification needs. Agile is a long journey so go with experts. Avoid shops which are just selling certificates.
Opt for a well-established Agile training company which can support your Agile implementation by offering you a long-term certification and training roadmap in Agile.
Two factors which get undue importance are cost of training and proximity of the training venue. Certified Scrum Master® certification Chennai is lifetime investment and these two factors should be given least priority as they have zero impact on the training quality.
Q. Where do you conduct your CSM® Training in Chennai?
A. Most of our CSM® Certification Training in Chennai batches are organized in the IT hubs near OMR. One of our prominent training venues is Hotel Novotel in Chennai OMR area. However, the choice of venue may vary depending on the Certified Scrum Master® training workshop in Chennai.
Q. What is the cost of an Agile Scrum Master certification course in Chennai?
A. The CSM® Training and Certification Course cost will vary according to the training providers. It costs somewhere between 22-25 thousand Indian rupees depending on the location and the training quality. The certification cost is included in the above fee, it also takes care of your lunch and study material on both the days. Training companies charge GST separately.
Q. How Do I start my Agile Career after getting a CSM® certification training program in Chennai?
A. The bad news is, certification alone is not enough to start working in Agile. If you are opting for a Certified Scrum Master®️ Certification Live Virtual Training Workshop in Chennai, you will most likely fall in one of the three criteria:
You are already working in a Scrum team – If you are part of a Scrum team already and want to strengthen your fundamentals, Certified Scrum Master® training Chennai workshop is a good beginning, a Certified Scrum Trainer will walk you through the entire journey of Scrum Master and you can immediately start implementing learnings from the CSM® class.
You are a beginner in Scrum – If you have a little idea of Scrum but never worked in Scrum, the challenge has just begun. You need to master the fundamentals while still looking for opportunities to work in Scrum. The best idea is to start implementing Scrum in the team where you are already working, for this you need to understand the Scrum framework really well and need to lead the implementation.
You are a senior professional working in the waterfall model – This is quite challenging, in order to understand and appreciate the Scrum fundamentals you need to leave a lot of waterfall baggage and command and control mindset. Scrum is a complete overhaul of what you have done in the past. The servant leader's mindset is a totally different approach and you need to learn from the beginning.
Q. Which are other certifications I can do along with CSM® training Chennai?
A. In order to succeed with Agile at the enterprise level, you need to understand the multiple Agile frameworks and how it scales. We recommend you work as a Scrum Master for some time before going for the next level of Certified Scrum Master® course. An experienced Scrum Master can opt for following certifications:
| | |
| --- | --- |
| Certification | Purpose |
| Certified Scrum Product Owner | Parallel to Scrum Master. A good addition to help you understand the Product Owner's role and apply a holistic approach to Scrum framework. |
| SAFe® Agilist (Scaled Agile Framework) | Most Scrum teams need support in scaling. There are multiple scaling frameworks but Scaled Agile is the leader in this area. You can learn the framework and go for a SAFe® Agilist certification. |
| Kanban (KMP1 and KMP2) | Kanban is the alternative to Scrum. As a productivity tool Kanban is a great addition both at a personal and professional level. |
| Agile Coaching (ICP-ACC) | ICP-ACC is the leading Agile certification for coaches. It's recognized globally for the extensive coverage of Agile coaching fundamentals. |
| PMI-ACP | PMI-ACP is a popular Agile certification. If you want to develop an overall understanding of Agile and Scrum and various agile frameworks, PMI-ACP could be a great start. |
Q. What other certifications do you offer in Chennai?
A. We understand that any one certification is not enough to meet your skill upgradation needs. The IT Industry is going through a turbulent time and most senior folks are struggling to grow. Our CSM® training in Chennai is designed to help you fight the mid-career crisis. We offer Scaled Agile Framework (SAFe® Agilist, Devops) IPC-ACC, Kanban Certifications (KMP1 and KMP2), CSPO® and other certifications which are relevant to the industry needs.
Q. How is your CSM® course Chennai Workshop different from other providers?
A. We leave this to your judgement, however there are a couple of points which we would like to highlight.
We are an Agile expert company (most of our competitors sell CSM® Certification Course and they do not have anything to offer you further). We have a range of certifications which are important for a steady growth of your career.
We have a local trainer who understands Agile and a local Agile environment as a whole, the benefit comes in form of addressing all our Scrum related questions with a local context in a local language.
We support your continuous learning needs with the help of online programs, regular webinars events, offline community workshops and meetups. An active community is very critical for a long term growth.
Q. Does the Scrum Alliance have a regional office in Chennai?
A. Scrum Alliance does not have a regional office in India. iZenBridge is a REP of Scrum Alliance and our trainers are Certified Scrum Trainers (CSTs) with affiliation of Scrum Alliance.
CSM Training Testimonials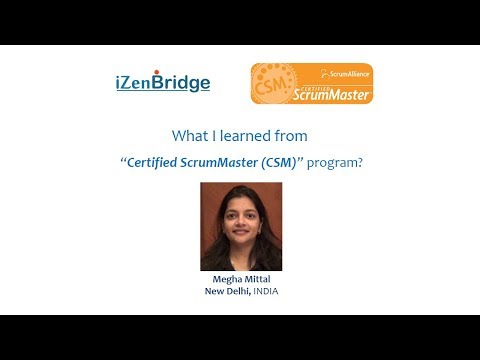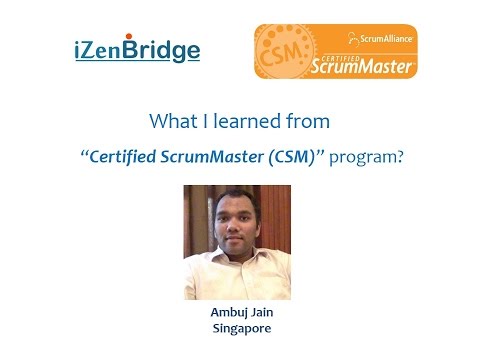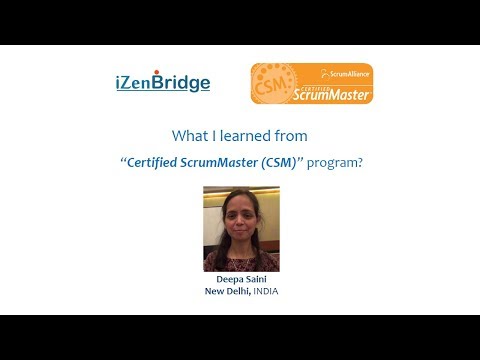 Sekhar's journey to transform the world of work, so that everyone enjoy coming to work everyday. He is an Enterprise Transformation Coach has over 18+ years primarily focused on building great teams that build great organizations, inculcating agile ways of working, lean thinking, promoting innovation and help leadership transitioning through change that enables business agility.

Sekhar is a technocrat, management consultant and an Enterprise Agile Transformation Coach and has over 17 years of using methodologies from Waterfall to Agile.
He has several years of Agile experience as a developer, Scrum Master, Product Owner, plus leading and coaching various Agile teams.
A Certified Scrum Trainer (CST) from Scrum Alliance, trained over 20k+ professionals across various geographies and cultures, Certified Enterprise Coach (CEC), Certified Change Management Practitioner, Certified Less Practitioner, PMP and PMI-ACP.
An International Coach Federation Professional Certified Coach (ICF-PCC).
Organization and Relationship Systems Coaching (ORSC) Practitioner.
Currently serving on the review board of Scrum Alliance as a CEC Reviewer
A Certified Career Coach from Certified Coaches Alliance, NLP Practitioner and also an Executive Coach from Marshall Goldsmith Stakeholder Centric Coaching.
One of most the respected mentor coaches in the Agile community A well-known speaker across various regional, Global and International agile conferences.
A reviewer and contributor of the book titled- "The Human Side of Agile", and the "The Agile Mind-Set" authored by Gil Broza.
In the recent past, Sekhar was an active Enterprise Agile Coach at ADP, India and Paypal, India
Prior Roles: Executive Agile Coach, Scrum Master, Product Owner, Engineering Manager, Product Development Consultant
He is an engineering graduate and an MBA plus holds a PGCBM from XLRI Jamshedpur
CST, CSP, CSPO, CTC, CAL1, CCI, ICP-ACC, SPC 4.0, PMP, ACP, KMP-1, KMP-2, Gamification, Mgmt 3.0, Change Mgmt Practitioner (APMG)

Madhavi is a transformational enthusiast with a technology background. She has an end-to-end development experience with MS technologies. She has a keen interest in delivering customized workshops that include User Story, Product Owner, Scrum Master, Design Thinking, Release Planning & Portfolio workshops. She is passionate about building teams that are focused on the outcome instead of output. She also works with leadership & teams to guide them through transformation.
iZenBridge
Average rating:
0 reviews