S no.
Session Dates
Session Timing
Session Goal
Session Assignment
1
26/3/2019
8:30 PM – 11:30 PM EST
Check in your timezone
Getting started with Agile Coaching
Watch Videos on Agile Coaching and Professional Coaching Skills
Study Slides of Professional Coaching Skills
2
01/04/2019
8:30 PM – 11:30 PM EST
Check in your timezone
Exploring Professionals Coaching Skills
Explore Powerful questions handout
Watch Videos on Coaching Conversations
Study Slides for Coaching Conversations
3
09/04/2019
8:30 PM – 11:30 PM EST
Check in your timezone
Coaching Conversations
Practice Coaching Conversations
Study Slides for Mentoring Agile Role Transitions
Study Slides on Coaching Alliance and Contracts
Study Videos on Mentoring Agile Role Transitions
4
16/04/2019
8:30 PM – 11:30 PM EST
Check in your timezone
Mentoring Agile Role Transitions
Study Slides and Videos for Understanding team Development
Coaching Alliances and Contracts
5
17/04/2019
8:30 PM – 11:30 PM EST
Check in your timezone
Understanding team Development
Study Slides and Videos for Handling Team Dysfunctions and Conflicts
6
23/04/2019
8:30 PM – 11:30 PM EST
Check in your timezone
Handling Team Dysfunctions and Conflicts
Study Slides and Videos for Coach As Teacher
7
30/04/2019
8:30 PM – 11:30 PM EST
Check in your timezone
Practicing and Observing one on one coaching
S no.
Session Timigs
Session Goal
Session Assignment
1
4/17/2019
5:30 AM – 8:30 AM
Check in Your timezone
Getting started with Agile Coaching
Watch Videos on Agile Coaching and Professional Coaching Skills
Study Slides of Professional Coaching Skills
2
4/24/2019
5:30 AM – 8:30 AM
Check in Your timezone
Exploring Professionals Coaching Skills
Explore Powerful questions handout
Watch Videos on Coaching Conversations
Study Slides for Coaching Conversations
3
5/1/2019
5:30 AM – 8:30 AM
Check in Your timezone
Coaching Conversations
Practice Coaching Conversations
Study Slides for Mentoring Agile Role Transitions
Study Slides on Coaching Alliance and Contracts
4
5/8/2019
5:30 AM – 8:30 AM
Check in Your timezone
Mentoring Agile Role Transitions
Study Slides and Videos for Understanding team Development
Coaching Alliances and Contracts
5
5/9/2019
5:30 AM – 8:30 AM
Check in Your timezone
Understanding team Development
Study Slides and Videos for Handling Team Dysfunctions and Conflicts
6
5/15/2019
5:30 AM – 8:30 AM
Check in Your timezone
Handling Team Dysfunctions and Conflicts
Study Slides and Videos for Coach As Teacher
7
5/22/2019
5:30 AM – 8:30 AM Check in Your timezone
Practicing and Observing one on one coaching
If you have any queries or need further details, please drop an email to giri@izenbridge.com or connect over whatsapp on +91-9212612497.
This is a highly interactive program that makes ample use of discussions and exercises to help you hone the essential coaching skills like self-awareness, coaching stance, mentoring, facilitation, active listening, powerful questioning and coaching for action.
On successful completion, you will receive a certificate titled "ICAgile Certified Professional in Agile Coaching" (ICP-ACC).
Deliverable:
On successful completion, each participant will receive
ICAgile Certified Professional in Agile Coaching" (ICP-ACC) From ICAgile.
24 Leadership PDUs for PMI Certificate Renewal.
ICP-ACC Certificate is valid for lifetime
Key knowledge areas covered in this training include:
The Agile Coaching Mindset
The Coaching Stance
Professional Coaching Skills
Coaching Conversations – Coaching for Action
Mentoring Agile Roles & Transitions
Coaching the Journey toward High Performance
Handling Conflict and Dysfunctions within the Team.
Q. Who should Attend Agile coaching?
A. The ICP-ACC is for passionate servant leaders who wish to make a difference and have desire to master facilitation, coaching, and mentoring the agile teams. Agile coaching is a useful skill for –
Aspiring Agile Coaches
Agile Coaches/Leadership
Delivery Managers
Scrum Masters and Product Owners.
Senior Project Managers/ Agile PMs
ICP ACC is a globally recognized certificate for Agile Coaches. Coaching is a sophisticated function, a formal training and orientation is critical; it improves self-awareness,
Q: Is this virtual program effective?
A: Yes, we have already done 5 batches of virtual Agile Coaching, the session effectively delivers the intended objectives. The participants get a lot of practice, live examples and case studies to learn from. Our Trainer, Saket Bansal is globally recognized Agile Coach with an experience of delivering 100+ ICP-ACC batches in last 3 years.
Q: What is ICAgile?
A: International Consortium of Agile (ICAgile) is an international organization, headquartered in Virginia, USA. They have worldwide recognition for their training tracks related to Agile. Please find more details here… https://icagile.com/
Q: Who is this certification recommended for?
A: Besides current and aspiring Agile Coaches, this certification training is also recommended for roles that are expected to lead and support an Agile team – Scrum Masters and Managers in an Agile development environment.
Q: Are there any pre-requisites or qualifications required before this training program?
A: While there are no conditional pre-requisites for this training program, it is advised that participants have:
➤ Good working knowledge of at least one Agile framework
➤ Agile work experience in a lead role – Scrum Master, Agile Coach, Agile Project Manager, Product Owner, etc.
Please call us if you are not sure if you have relevant work experience for this training.
Q: Besides training, is there any additional evaluation criteria (assessment or interview) to be eligible for the certificate?
A: Instead of formal post-training assessment, this program aims to deliver required learning objectives through an engaging schedule that utilizes classroom discussions, individual exercises, group exercises, role plays, etc. In short, trainer evaluation during the training will be used as the primary criteria for granting the certificate.
Q: What is the validity of ICP-ACC certificate?
A: The ICP-ACC certificate comes with a lifetime eligibility. It does not require additional expense to renew every few years.
Q: How much time does it take for the certification process?
A: The certification process is quite smooth at ICAgile. You can expect to receive your certificate within a few days of training, latest by a week.
Q: I am interested in this program. What do I need to study or prepare before I attend the virtual classroom program?
A: Participants are expected to have good working knowledge of Agile and Scrum. If you are new to Agile or Scrum, we recommend you to read through the basics. A working experience as Scrum Master, Agile Coach, Product Owner or an Agile Project Manager would be a definite plus.
Q: How many participants are expected to be in the training?
A: Given the interactive nature of the training, we will be limiting the number of participants to fifteen only, to ensure we don't have to compromise on quality. If you have failed to register the currently scheduled training, we sincerely request to wait and register for the next training.
Q: How is this training delivered?
A: This is a virtual program which is deliver via a webinar platform (Zoom). Once you enrol, you will receive an email with session details. The session recording will be available to the participants for review, but its mandatory to attend all live sessions in order to earn the certification.
Q: Is there any alumni or group discounts available for this program?
A: Yes, our alumni discount will also apply to this training, and group discounts will be available for 3+ candidates. Please get in touch with our sales team for details. No discount applicable on earlybird price.
Upcoming Classroom Trainings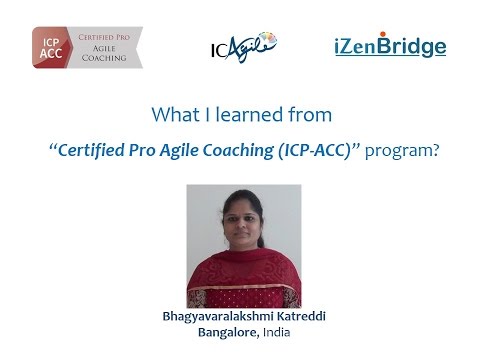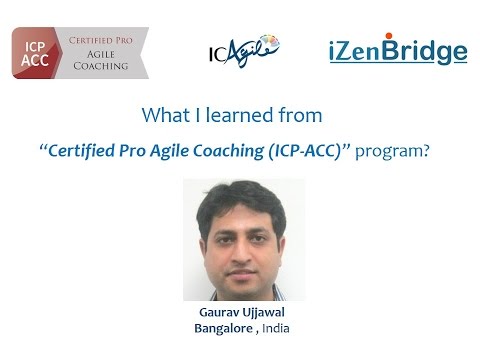 Director, PMP® & PMI-ACP® Trainer, iZenBridge
Saket Bansal is one of the leading agile trainers in India. He is a founder director of Delhi IT Professionals Meet Up group and iZenBridge Consultancy Private Limited.
Email: saket.bansal@izenbridge.com