What is SAFe® 5 APM Certification?
SAFe® 5 Agile Product Manager (SAFe® 5 APM) is a designation offered by renowned organization "Scaled Agile". This SAFe® 5 Agile Product Management virtual training certification program is ideal for you if you want to
Develop the right mindset, skills, and strategies to build successful products using Agile techniques – from beginning to retirement.
Apply design thinking to achieve desirable, feasible, and sustainable outcomes in the organization by exploring the market needs.
Accelerate the product lifecycle to get fast feedback to deliver exceptional products and solutions.
Learn how to do product management activities in a structured way like how to penetrate the marketplace, creating an innovative product, etc.
SAFe® 5 APM Certification Online Session
We offer SAFe® 5 APM Certification virtual live sessions. Our SAFe® APM online live certification training session will be highly interactive, with a lot of discussions and exercises that will help you improve your skills. Our online live training session will be led by the expert trainer, Mr Rakesh Singh. He is a well-known Agile Coach with 20+ years of experience in providing both strategic and tactical leadership. Everything you learn in our SAFe® APM online certification training, you can apply to your job as an Agile Product Manager. Our SAFe® 5 APM virtual live sessions are delivered via a webinar platform (Zoom) that is completely secured and password-protected. To make the session more interactive, we prefer different breakout rooms for various activities and the chat option is also available in case you want to ask any questions from the experts. We prefer using Jamboard to make the session more interesting along with the Sticky notes for better brainstorming ideas, especially in the remote learning environment. We also have an expert team of Agile coaches who will help you clear all your concepts related to Agile and will guide you perfectly to grow faster in your career. To get Certified, one must attend live virtual sessions and clear the SAFe® 5 APM ​exam. Upon successful completion of the course, professionals will receive certification from the Scaled Agile.
Upcoming Virtual Trainings
What will you learn?
Our SAFe® 5 Agile Product Management virtual sessions will help you in achieving the following learning objectives i.e how to:
Determine and apply design thinking to achieve desirable, feasible, and sustainable outcomes
Evaluate and explore market needs, segmentation, sizing, and competitive landscape
Identify and manage value stream economics, including pricing and licensing
Illustrate and apply empathy to drive design
Determine and perform product strategy and vision
Develop and evolve roadmaps
Execute and deliver value using SAFe
Recognize and explore innovation in the value stream
Agenda
Following is the agenda for the SAFe® APM training session:
Analyzing your Role as a Product Manager in the Lean Enterprise
Continuously Exploring Markets and Users
Driving Strategy with Market Segmentation
Using Empathy to Drive Design
Defining Product Strategy and Vision
Creating Roadmaps to Build Solutions
Delivering Value
Managing Value Stream Economics
Creating Innovation in the Value Stream
SAFe® APM Course Prerequisites
The following prerequisites are recommended for those who aim to take the SAFe® APM certification training exam:
Familiarity with Agile principles and practices
Attended at least one SAFe® course
Background in Product or Solution Management
Experience being a Product Manager, Product Marketer, Product Owner, Business Owner, or bringing products to market.
Who should attend?
This online live SAFe® APM workshop will be beneficial for individuals who:
Agile Coach /Consultant /Agile Trainer
Product Manager /Project Manager
Product Owner /Product leaders
Business Owner /Business Analysts
Product Marketing Manager /Product Management Team
What will you get?
SAFe® 5 APM Online Training with 100% success guarantee
100% Assured Scaled Agile certification
One-year membership to the SAFe Community Platform
Certified SAFe® 5 Agile Product Manager digital badge to promote the accomplishment online
Access to Meetup groups and events that connect you with other Certified SAFe Professionals
Course Fee includes Scaled Agile Certification Examination Fee
Eligible to apply for 24 PDUs with the Project Management Institute (PMI) for PMP and PBA certifications and 15 PDUs with the PMI-ACP certification.
Eligible to apply for SEUs toward earning or renewing their CSP through Scrum Alliance
Continuous learning and support to advance your SAFe® 5 APM understanding
Full money back, if you don't like or unable to attend the class
Exam Details
Name – SAFe® 5 Agile Product Manager Exam
Format – Multiple choice
Delivery – Web-based (single-browser)
Access – Candidates can access the exam within the SAFe Community Platform upon completion of your SAFe® 5 APM course.
Duration – 120 minutes (2 hours)
Number of questions – 60
Passing score – 45 out of 60 (75%)
Exam cost – The first exam attempt is free if the exam is taken within 30 days of course completion. Each retake attempt costs $50.
Retake policy – The Second attempt can be done immediately after the first attempt. The third attempt requires a 10-day wait. The fourth attempt requires a 30-day wait.
How to get SAFe® APM Certification?
The SAFe® APM virtual program will be delivered via a webinar platform (Zoom). Once you enrol, you will receive an email with SAFe® Agile Product Manager virtual live session details.
Attend all the live sessions
Prepare for the exam
Clear the exam in 2021
Give feedback about the SAFe® APM course
Claim your certificate online
Your SAFe® APM certification will be received via email. On successful completion of the SAFe®️ APM certification course, you will be awarded the credential of SAFe®️ Agile Product Manager by Scaled Agile.
Why SAFe® APM Certification with iZenBridge?
iZenBridge is your reliable partner for professional training and certification. We provide the best SAFe® APM certification training that will always add a feather in your cap. Since 2012, we have trained thousands of professionals and companies across different countries. We got world-class experts already on board, Mr Saket Bansal. They have trained and coached more than 5000+ professionals. They have also facilitated 100+ virtual sessions on coaching, mentoring, and Agile product delivery across 30+ countries. Our virtual live SAFe® APM session with Saket Bansal is a value for money workshop. Everything you learn, you can apply to your job as an Agile Product Manager.
We believe in going beyond traditional presentations by sharing our broad and diverse expertise in implementation. You will receive pre-reading study material immediately after registering for the SAFe® APM training online. It is recommended that one should complete the reading of theory before theSAFe® Agile Product Manager virtual session so that they can actively participate in all the activities and conversations. Our Youtube channel includes hundreds of FREE videos to learn concepts in simple language. We also have 40,000+ youtube subscribers from more than 50 countries. Our online training courses are well recognized and receive 500+ enrollments every month. We have an expert panel who will help you design a career path of your choice, help you grow faster in your career and also guide you perfectly throughout the journey.
PMI Authorized – Trained instructors
Mentored professionals across 30+ countries
Real-world support and grooming
Dedicated Customer Support for PMI® Membership
Comprehensive Participant Feedback Mechanism
100+ videos on our YouTube channel
40,000+ subscribers are getting the benefit
Query Handling Facility over Email and Phone
Continuous Support Through dedicated Forum
500+ enrollments every month
Training Schedule With Global Timings
15, 16 & 22 January'22


8 hrs – Sat & Sun : 3 Sessions

Country
Timing
US & Canada
6:00 AM – 2:00 PM EST
5:00 AM – 1:00 PM CST
UK
11:00 PM – 7:00 PM GMT
France, Germany
12:00 PM – 8:00 PM CEST
South Africa, Egypt
1:00 PM – 9:00 PM SAST
India & Srilanka
4:30 PM – 12:30 AM IST
Saudi Arabia
2:00 PM – 10:00 PM AST
UAE
3:00 PM – 11:00 PM GST

Price:

1800 USD
Trainer: Shyam Addanki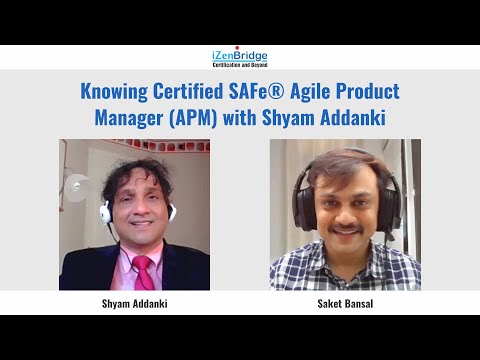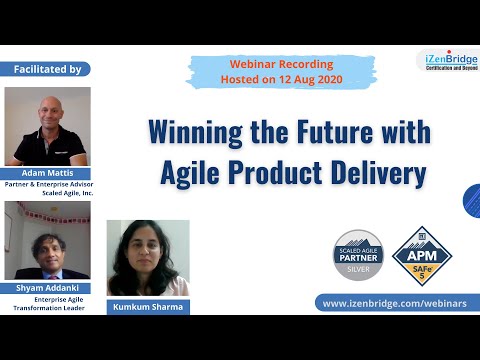 Q. What is Agile Product Management?
A. SAFe® 5 Agile Product Manager (SAFe® 5 APM) is a credential offered by "Scaled Agile". This course is usually ideal for product managers and senior product managers. They might have been applying many of the ideas which are taught in this particular program, but SAFe® 5 APM brings a good structure around those teams, which enables them to do their job better than before.
Q. Who should do the SAFe® 5 APM course?
A. This SAFe® APM course is recommended to everyone who wants to become entrepreneurs, product managers, junior product owners, etc. Even Associate Product Managers can do this course, who are asked to come up with strategic themes, defining the vision, exploring the market segments, understanding and coming up with the design thinking, customer centricity, coming up with their own suite of products, and so on.
Q. What are the benefits of SAFe® 5 APM certification?
A. In today's era, even large enterprises want to create a culture where they look like a micro-enterprise i.e dividing the organization into micro-enterprises so that each enterprise can deliver and add values. This concept creates a huge need for product management skills. As when you divide the organization into micro-enterprises, then you need someone to think and apply. So ultimately, this SAFe® 5 APM program can improve the product management skills in a structured approach where it can be applied at a small team level. Hence, this SAFe® Agile Product Manager program can help you in achieving some mileage in getting better opportunities in your career.
Q. Why should I do the SAFe® APM course?
A. SAFe® 5 APM certification course gives you a structured approach and an understanding of the basics i.e. what is the role of Product Owner and a Product Manager, customer centricity, design thinking principles, different strategies of exploring the market and so on. So if you are aspiring to get into product management, and product ownership role, then you will get a little wider perspective of product management by doing this program. SAFe ® 5 APM also enables you to do a gap analysis and find out which are the key areas they should improve. It does not necessarily need lots of experience in advance to do this course. SAFe® APM certification course is also coupled with various simulation, case studies and examples so that you can grab the concepts and build your future skills.
Q. How SAFe® 5 APM certification will help me in the organization?
A. The product management professional feels that they can play a role in the overall transformation and overall business agility of the organization. It enables them to think about the customer segment, adaption, how to make the product work and how to make the overall business model around the product? The idea of this program is it's not just about the product rather It's about the overall business model, which can sustain with the help of this product. You will bring a lot of empathy from product managers to the overall transformation initiative.
Q. How the SAFe® Agile Product Management (APM) program enables Product Managers?
A. SAFe® Agile Product Management course helps the Product Managers in learning how to do the product management activities in a structured way. It assists Product Managers in learning, how to penetrating the marketplace, and creating an innovative product. The structured approach also enables Product Managers to do their jobs better than before.
Q. How the SAFe® APM program helps in achieving professional growth?
A. The SAFe® APM course will give you a structured approach with an understanding of how to become a Product Manager. This course includes topics like, what is the role of a Product Owner, what is the role of Product Manager, what is Customer-Centricity, what are the design thinking principles, how Product Managers build market segments, what are the different strategies in terms of exploring the market, and so on. The course moves on with a very sequential approach to make sure that learners can benefit from it. SAFe® APM program enables you in doing the gap analysis of your knowledge and skills so that you can find out the key areas that you need to improve. The course is also coupled with various simulations, case studies, and examples so that you can grab those concepts and build future skills easily.
Q: Can I ask for a refund if I can't attend the program?
A: Yes, in the current situation we are giving a 100% refund/rescheduling if you can't attend the program because of any reason.
Q: What if I feel this training was not right for me?
A: Let us know in 4 hours of starting the class, we will refund your full money.
Q: Where can I find more details about Scaled Agile?
A: You can find more information in the below links:
Q. What is Cancellation/Refund & reschedule policy for SAFe APM certification?
A.
All the cancellation and reschedule requests must be notified over email.
Requests received any time prior to class will get 100% refund. Within 7 working days.
After first day if you're unable to attend due to any emergency, we will reschedule your class for future.
Business Agility Faculty, SAFe 5 Program Consultant
Rakesh Singh has 28+ years of association with Siemens and expertise in Quality Management, Project Management, Lean/Agile transformation (SAFe 5 SPC) and numerous business excellence framework Rakesh offers Coaching, Consulting and Training services to potential clients.
Global Enterprise Agile transformation leader/Agile Coach with twenty plus years of experience in providing both strategic and tactical leadership across multi-million dollar engagements, managing client partnerships at the executive level while having operational oversight for all client interfaces, with a focus on meeting deliverable requirements, assuring overall quality of deliverables and ensuring overall customer satisfaction. Outstanding leadership & team building skills coupled with in-depth technical aptitude and focused process compliance with an ability to identify client's business needs and work with both the client and huge cross-disciplinary teams to understand, define, and build effective and innovative solutions that generate measurable results.
Training Schedules would support the time zones of the following Countries/Cities
US, Canada, Florida, New York, Washington, California, Idaho, Nevada, Oregon, Seattle, Mississauga, Charlotte, Las Vegas, Columbia, Toronto, San Diego , Los Angeles , Chicago , Miami , Toronto , Mississauga , Montreal , Quebec City , Ottawa , Vancouver , India, Bangladesh, Singapore, Malaysia, Sri Lanka, Manila, Delhi, Gurgaon, Bangalore, Hyderabad, Chennai, Mumbai, Kolkata, Kerala, Kochi