Scaled Agile Framework – Leading SAFe (SA) 5.1 Certification Online
20, 26 & 27 February 2022

5 hrs – Sat & Sun: 3 Sessions
US & Canada



20, 26 & 27 February 2022
6:00 AM – 11:00 AM EST (GMT-5)
5:00 AM – 10:00 AM CST (GMT-6)
5 hrs – Sat & Sun : 3 Sessions
UK, France & Germany



20, 26 & 27 February 2022
11:00 PM – 4:00 PM GMT (GMT+0)
12:00 PM – 5:00 PM CEST (GMT+1)
5 hrs – Sat & Sun: 3 Sessions
UAE & India



20, 26 & 27 February 2022
3:00 PM – 8:00 PM GST

(GMT+4)
4:30 PM – 9:30 PM IST

(GMT+5.5)
5 hrs – Sat & Sun: 3 Sessions
Global timings for the class
06:00 AM – 11:00 AM EST (USA)
05:00 AM – 10:00 AM CST (USA)
11:00 AM – 4:00 PM GMT (UK)
12:00 PM – 5:00 PM (France)
02:00 PM – 7:00 PM AST
03:00 PM – 8:00 PM GST (UAE)
04:30 PM – 9:30 PM IST (India)
Full money back if you don't like or unable to attend the class
Limited Time Offer 15% Off
Apply Coupon
IZ15
Leading SAFe® certification is amongst the most widespread and comprehensive approaches for large-scale Agile projects. It provides an accurate, reliable, and uniform method of evaluating SAFe skills, knowledge, and mindset. Scaled Agile Framework® (SAFe) certified individuals are known worldwide for their capability to support the successful transformation of organizations into Lean-Agile enterprise. The marketplace demands agile skilled professionals who can assist Agile teams and programs, establish a DevOps culture and give solutions. Candidates in the training gain insights into mastering Business Agility to succeed in the marketplace. They discuss how to build a team and technical agility. They study and follow the skills for supporting and executing PI Planning events and coordinating multiple Agile Release Trains (ARTs). They also explore the value of using a customer-centric mindset and design thinking approach to agile product delivery.
We offer virtual live session. Our online live SAFe® program would be an enriching experience to ensure that you have a knowledge and understanding of how to implement SAFe® in your organization. You will be required to have approx. 20 hours of self-study for better understanding. It is recommended that one should complete the reading of theory before the session so that they can actively participate in all the activities and conversations. For all the participants, complete content is available at eLearning.izenbridge.com. We have an expert team of Agile coaches who guide you perfectly throughout the journey. To get Certified, one must attend live virtual sessions and pass the exam. Upon successful completion of the course, professionals will receive certification from the Scaled Agile.
Who Should Attend?
Senior Project Managers/ Senior Consultants
Program Managers /Projects Managers / Product Managers
Team Leads /Tech Lead
IT Head/ Business Heads
Business Analysts
IT Heads / Senior IT Managers
Development, QA, and Infrastructure Management
Program and Project Managers
Product and Product Line Management
Portfolio Managers, PMO, and Process Leads
Enterprise, System, and Solution Architects
Benefits
Enhance communication and collaboration across all projects
Introduce Agile to your whole organization
Become a top-earning SAFe® professional
Grab more career opportunities
Keep up with the fast-changing market trends
Course Prerequisites
Everyone is invited to attend the course, regardless of experience. However, the following prerequisites are extremely recommended for those who aim to take the SAFe® 5 Agilist (SA) certification exam:
5+ years' experience in software development, business analysis, testing, product, or project management
Experience in Scrum
Upcoming Classroom Trainings
Apply Coupon
IZ15

(15% off)
Why iZenBridge
iZenBridge is your reliable partner for professional training and certification. Our training and certificates will always add a feather in your cap.  Since 2012, we have trained thousands of professionals and companies across different countries. We got world-class experts already on board, Mr. Saket Bansal. They have trained and coached more than 5000+ professionals. They have also facilitated 100+ virtual sessions on coaching, mentoring, and Agile product delivery across the 30+ countries.
We provide the e-learning portal to benefit our customers specially designed with two years of free online course access. We also conduct doubt clarification webinars for a better understanding of all the concepts. Our Youtube channel includes hundreds of FREE videos to learn concepts in simple language. We also have 34,000+ youtube subscribers from more than 50 countries. Our courses are well recognized and receive 500+ enrollments every month. We believe in guiding our customers perfectly throughout the journey.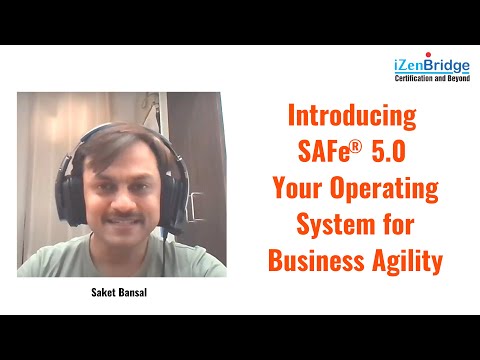 Content Outline
Thriving in the digital age with Business Agility

, Evaluate SAFe an operating system for Business Agility and explore how SAFe Seven Core Competencies achieves Business Agility

Becoming a Lean-Agile leader

, Apply lean-agile mindset at Scale. Demonstrate how SAFe Principles enable business agility at scale

Establishing Team and Technical Agility

, forming cross-functional Agile Teams to support Build quality in, Organizing Agile Release Trains (ARTs) around the flow of value

Building Solutions with Agile Product Delivery

Applying Customer Centricity with Design Thinking, Prioritizing the Program Backlog, Participating in PI Planning, Developing on Cadence; Releasing on Demand, Building a Continuous Delivery Pipeline with DevOps

Exploring Lean Portfolio Management

Defining the SAFe portfolio, connecting the portfolio to the Enterprise strategy, Maintaining the Portfolio Vision, Establishing portfolio flow, Funding Value Streams

Leading the change

Explore how to lead by example i.e. Authenticity, Emotional intelligence, Lifelong learning, Growing others, Decentralized decision-making and Identifying actions to take for leading the change
Deliverables
Virtual Training on

Scaling Agile

Get free access to SAFe® Community Platform

16 'Course or Training' PDUs from PMI (PMI-ACP / PMP)

SAFe® Agilist Certification on successful completion of the examination

We get you ready for the exam, in case you fail, we pay the retake fee
Training Schedule With Global Timings
20, 26 & 27 February 2022


5 hrs – Sat & Sun: 3 Sessions

Country
Timing
US & Canada
06:00 AM – 11:00 AM EST
05:00 AM – 10:00 AM CST
04:00 AM – 9:00 AM MST
03:00 AM – 8:00 AM PST
UK
11:00 AM – 4:00 PM GMT
France, Germany
12:00 PM – 5:00 PM CEST
South Africa, Egypt
01:00 PM – 6:00 PM SAST
India & Srilanka
04:30 PM – 9:30 PM IST
Saudi Arabia
02:00 PM – 7:00 PM AST
UAE
03:00 PM – 8:00 PM GST
Hong Kong, Singapore
07:00 PM – 12:00 AM HKT
Price: INR

45892

39008+Tax or USD

700

595
Trainer: Saket Bansal

Apply Coupon

IZ15

(15% off)
Introducing the SAFe 5.1 Framework
Embracing Lean and Agile Values
Understanding SAFe Principles
Building an Agile Portfolio

Implementing the Agile Release Train
Experiencing PI Planning
Executing and Releasing Value
Leading the Lean-Agile Enterprise
Examination Details
Name: SAFe® 5 Agilist Exam

Format: Multiple Choice

Delivery: Web-based

Access: Candidates can access the exam within the SAFe Community Platform upon completion of the Leading SAFe course

Duration: 90 minutes (1.5 hours)

Number of Questions: 45

Passing score: 35 out of 45 i.e. 77% passing score
Examination Process
Attend our SAFe Agilist Virtual Training with a SAFe Program Consultant (

All our trainers are SAFe Program Consultants

)

Continue learning with our SAFe Agilist E-learning Program.

Take the Online SAFe Agilist Certification exam within a month.

Claim your Certification on Successful completion of the SA exam.

In case of failure, you can retake the exam in 45 days or more after the previous exam.
Our Program is covered by a retake assurance, in case you don't clear in the first attempt (Which is a rare possibility), we will pay a retake fee.
Q. Why should I go for SAFe® Agilist?
A. SAFe Agilist ® (SA) is a Scaled Agile credential. If you are an executive, manager or agile change agent who is responsible for leading a Lean/Agile change initiative in your enterprise, by acquiring this certification you demonstrate your knowledge in applying the Scaled Agile Framework, lean thinking, and product development flow principles in an enterprise context.
Q. Will I get any PDUs after your training program?
A. Yes, the students will get 16 'Course or Training' PDUs towards PMI's PMP® / PMI-ACP® credential after the training program.Q. Do I need to take any test to become SA®?A. Yes, you have to pass the SAFe® Agilist (SA)Exam.
Q. What are the prerequisites to attend training for this certification?
A. You must have 5 plus years of experience in software development, testing, business analysis, product or project management along with Scrum Experience.
Q. Do you provide training material for this certification?
A. You will get free access to the SAFe® Agilist E-learning Program. We provide a hard copy of the course.
Q. Can I retake the test if I fail?
A. In case of failure, you can retake the exam in 45 days or more at our expense.
Q. What is the cost of SAFe® Agilist certification?
A. The cost of SAFe® Agilist training is approx 50k – 55k + Applicable taxes, as per the Scaled Agile guidelines. You will also get a one-year membership for the scaled agile community website.
To know more about other city programs, kindly click below
Director, Project Management Professional (PMP)® & Agile Certified Practitioner (PMI-ACP)® Certification Trainer, iZenBridge

Saket Bansal is the Founder of iZenBridge, a global education provider dedicated to improving the employability of working professionals. Saket started his professional career as a developer, and from the last eight years, he is in education and consulting. Saket facilitates training on Business Agility, SAFe, Disciplined Agile, Project Management, Agile, Scrum, Kanban, Facilitation and Coaching skills. Saket is helping start-ups, mid-size organizations and big corporates in developing high performing teams and achieving business agility.
Training Schedules would support the time zones of the following Countries/Cities
US, Canada, UK, London, Australia, Melbourne, Sydney, Perth, Florida, New York, Washington, Seattle, Mississauga, Charlotte, Cairo, Columbia, Wellington, New Zealand, Fishers, Toronto, Germany, Denmark France, Chile, Santiago, Argentina, Poland, Portugal, Netherlands, Prague, Belgium, Sweden, Spain, Saudi Arabia, Riyadh, UAE, Dubai, South Africa, Egypt, Greece, South Africa, Turkey, Nigeria, Indonesia, India, Bangladesh, Singapore, Malaysia, Sri Lanka, Manila