Kanban System Design (KMP Foundation 1) Virtual Class
UpComing Training
Kanban System Design (KMP1) Training Virtual (8, 9, 15 & 16 Jan'22)
4 hrs Sat & Sun : 4 Sessions
3:30 pm – 7:30 pm IST (GMT+5.5)
Price:INR 35000+18%GST
Kanban – An alternate path to Agility!
Kanban System Design (KMP Foundation 1) Online Certification is offered by Kanban University. This training is ideal for you if you are new Scrum teams who are struggling to reach a sustainable pace of development in the organization or a Scrum team who are overwhelmed by frequent changes in the Sprint scope. This session will help waterfall teams who wish to transition to Agile, but feel Scrum could be too risky, and too disruptive. This course is also for those mature Scrum teams who wish to transition to Continuous Delivery and also for teams who are looking for an "alternative path to agility" in the organization. This program will also help you become faster and more responsive, with better risk management and governance.
We offer a Kanban System Design (KMP Foundation 1) virtual live session. The course is designed specifically for professionals who want to think at a deeper level, beyond just their daily work challenges, to effect a long-term sustainable change. Our online live program would be an enriching experience to ensure that you have knowledge and understanding about how to guide a team in their adoption of Kanban – using the STATIK approach and embrace a service-delivery mindset. You will be required to have approx. 20 hours of self-study for better understanding. It is recommended that one should complete the reading of theory before the session so that they can actively participate in all the activities and conversations. For all the participants, complete content is available at eLearning.izenbridge.com. To get Certified, one must complete all assignments and attend live virtual sessions. Upon successful completion of the course, professionals will receive certification from the Kanban University.
What will you learn?
Our Kanban System Design (KPM Foundation 1) virtual sessions help you in achieving the following learning objectives i.e how to:
Understand the Kanban systems and experience flow in a Kanban simulation.

Determine and use STATIK (Systems Thinking Approach to Introducing Kanban) to design the Kanban system.

Create a visual board design and ticket design.

Identify and reduce the bottlenecks that obstruct your development process.

Apply meaningful kanban metrics like Flow Efficiency, Lead Time Distribution, Control Chart, and Cumulative Flow Diagram (CFD).

Evaluate WIP limits and conduct effective daily stand up and other kanban meetings.

Perform the process and practices in collaboration with the team to ensure the service delivery model is "fit for purpose".
Course Prerequisites
There is no prerequisite to take this course.
Training Schedule
| | | | |
| --- | --- | --- | --- |
| Session | Date | Time(IST) | Duration |
| 1 | Sat, 8 Jan 2022 | 3:30 PM – 7:30 PM (GMT+5.5) | 4 hr |
| 2 | Sun, 9 Jan 2022 | 3:30 PM – 7:30 PM (GMT+5.5) | 4 hr |
| 3 | Sat, 15 Jan 2022 | 3:30 PM – 7:30 PM (GMT+5.5) | 4 hr |
| 4 | Sun, 16 Jan 2022 | 3:30 PM – 7:30 PM (GMT+5.5) | 4 hr |
Agenda
The following will be the agenda for Kanban System Design (KPM Foundation 1) virtual training session:
Meaning of Kanban

Definition of Kanban Method

Kanban Principles

Kanban Practices – Visualization, WIP Limits, etc.

Understanding Kanban Systems

Classes of service and work item types

Kanban in action – Understanding the flow of work using an advanced Kanban game

Designing Kanban boards

Designing a Work Item(Ticket)

Introduction to STATIK: Systems Thinking Approach To Introducing Kanban

Identifying internal and external motivation for change

Demand analysis for different types of work

Choosing system replenishment and delivery frequencies
To support the classroom teaching this course uses non-technical exercises, simulations and case studies.
KMP1 Certification Process
The Kanban Management Professional (KPM Foundation 1) virtual program will be delivered via a webinar platform (Zoom).  Once you enroll, you will receive an email with session details.
It will be mandatory to attend all the live sessions which will be highly interactive, with a lot of discussions and exercises to help you improve the skills. One must attend all live virtual sessions, and complete all the assignments to get certified. Once all the above tasks have been completed, we will upload your details to Kanban University's website. After that, you will be required to login and download your certificate. The certificate will be valid for a lifetime.
On successful completion of this training process, you will be awarded the certification of Kanban Management Professional (KMP) by Kanban University.
Upcoming Virtual Trainings
Q. What is Certified Lean Kanban Foundation (KMP1)?
A. Certified Lean Kanban Foundation (I) – This course has been accredited by the Lean-Kanban University (LKU). If you are new to Kanban or have explored Kanban but now want to consolidate your knowledge in a practical setting you can go for this certificate.
Q. Certified Lean Kanban Foundation (KMP1) is primarily aimed for which kind of role?
A. This course is aimed at product and project managers, development team members (designers, programmers, architects, testers, etc.), business analysts, Scrum Product Owners and Scrum Masters who want to enhance their Lean/agile skill set.
Q. What do I need to attend the course for this certification?
A. This course has no set prerequisites and is suitable for all experience levels.
Q. What is the outcome of this course?
A. Upon successful completion of the course, attendees will become accredited members of the Lean-Kanban University.
Q. Is there any exam for KMP 1 course?
A. There is no exam for KMP-1. However, you need to attend the training sessions and answer all the assignments to get certified.
To know more about other city programs, kindly click below
†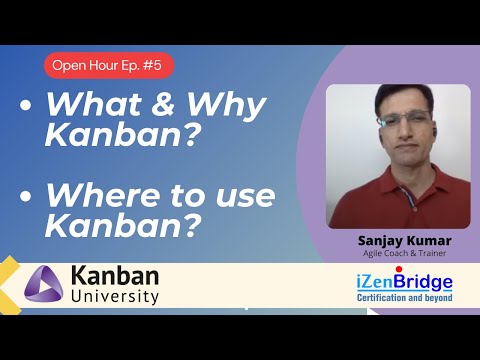 Agile Trainer & Coach [AKT, ICP-ACC, CSP, ICP-ATF, KMP, PMI-ACP]
An Agile enthusiast and a proponent of software development best practices, Sanjay Kumar is one of the few trainers in India who specialize in the three key practice areas related to agility for software development teams – Scrum, Kanban and Extreme Programming (XP).
Email: sanjay.kumar@izenbridge.com
Training Schedules would support the time zones of the following Countries/Cities
US, Canada, UK, London, Australia, Melbourne, Sydney, Perth, Florida, New York, California, Idaho, Los Angeles , Nevada, Oregon, Washington, Seattle, Mississauga, Charlotte, Cairo, Columbia, Wellington, New Zealand, Fishers, Toronto, Germany, Denmark France, Chile, Santiago, Argentina, Poland, Portugal, Netherlands, Prague, Belgium, Sweden, Spain, Saudi Arabia, Riyadh, UAE, Dubai, South Africa, Egypt, Greece, South Africa, Turkey, Nigeria, Indonesia, India, Bangladesh, Singapore, Malaysia, Sri Lanka, Manila, Delhi, Gurgaon, Bangalore, Hyderabad, Chennai, Mumbai, Pune, Kolkata, Kerala, Kochi.