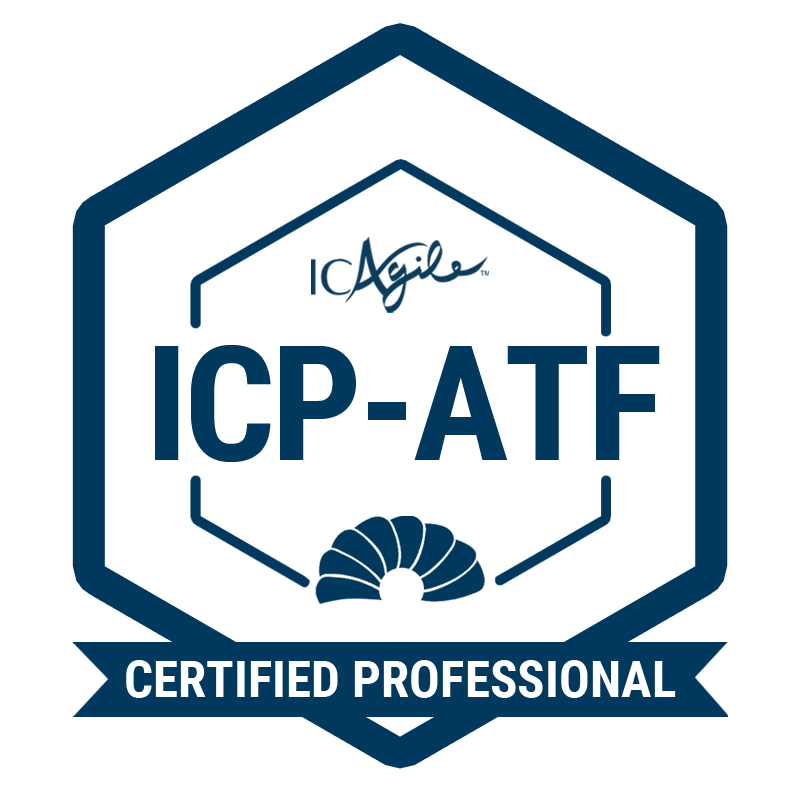 The ICAgile Certified Professional in Agile Team Facilitation is the knowledge-based certification course introduced by a globally renowned International Consortium of Agile (ICAgile). It focuses primarily on the mindset and role of an Agile Team Facilitator. It helps in applying the art of facilitation to foster collaboration and enable the self-organizing teams. It also provides tools and techniques for group facilitation to efficiently organize meetings and workshops for the audience to achieve the targets. Through obtaining this certification, course participants will facilitate the Agile practices in the organization by helping the team in delivering the business values. He will also help the team in being Agile by enabling the team's journey towards the high-performance team.
We offer four virtual sessions and each session is three hours long. The course is designed specifically for busy professionals who are all packed up in working hours. Our online live ICP-ATF program would be an enriching experience to ensure that you have a knowledge and understanding of the Agile Team Facilitator without sacrificing your office. You will be required to have approx. 20 hours of self-study for better understanding. There will be both individual assignments as well as group assignments for developing the facilitation plan. It is recommended that one should complete the reading of theory before the session so that they can actively participate in all the activities and conversations. For all the participants, complete content is available at eLearning.izenbridge.com. We have an expert team of Agile coaches who guide you perfectly throughout the journey. To get Certified, one must complete all assignments and attend live virtual sessions. Upon successful completion of the course, professionals will receive certification from the International Agile Consortium (ICAgile).
Who is the Facilitator?
Facilitator is the one who plans, prepares and designs a facilitated session, applies the appropriate methods and processes and develops the session materials. He is the one who optimizes and maintains neutrality throughout the engagement with the client. He ensures that participants engage and interact with each other. He also helps the team to achieve their desired goal.
Following are the roles and responsibilities:
Encourage Full Participation
Promote Mutual Trust
Servant Leadership
Embrace Growth Mindset
Foster Win Win Solution
Cultivate Shared Responsibility
Course Outline
Lesson 1: Knowing Agile Team Facilitation
Definition of facilitation and Agile team facilitation
Create a Development path for Agile Team Facilitation and beyond
Apply Facilitation Mindset to excel in facilitation
Assessing your ability to Serve the Team
Lesson 2: Designing and Conducting a Facilitated Session
Demonstrate techniques for facilitating full participation
Apply techniques for facilitating collaborative conversations
Apply techniques for creating a collaborative space
Use multiple meeting organization tools in practice
Create a facilitator guide for agile meetings
Lesson 3: Designing and Conducting Agile Framework Meetings
Develop facilitation plan for Daily Scrum and Sprint Retrospective
Demonstrate skill to develop facilitation plan as per team maturity
Facilitate Retrospective
Activities for retrospective
Values and Principles behind the scrum events
Lesson 4: Facilitating Selected Agile Meetings
Apply knowledge to develop facilitation plans for Sprint Planning , Sprint Review and Backlog Refinement
Demonstrate skill to develop facilitation plan as per team maturity
Apply skills to facilitate Backlog Refinement Meeting
Download the detail course content here:
Target audience
The following people can take benefit from this course:
ScrumMasters
Agile Project Managers
Agile Coaches and aspiring coaches
Product Owners
Business Analysts
Anyone with the desire to explore the power of facilitation
What you will learn
How to create a development path for Agile Team Facilitation and beyond
How to apply the Facilitation Mindset to excel in facilitation
How to assess your ability to serve the Team
How to use multiple meeting organization tools in practice
How to create a facilitator guide for agile meeting
How to apply knowledge to develop a facilitation plan for Daily Scrum and Sprint Retrospective, Sprint Planning, Sprint Review, and Backlog Refinement
How to apply skills to facilitate Backlog Refinement Meeting
Certification Process
To get certified, one must attend all live virtual sessions, go through the lesson insights from our e-learning portal and complete all the assignments.
Once all the above tasks have been completed, we will upload your details at ICAgile.com. You will receive an email to give feedback about the course. Once done with the feedback, you will get an email to claim your certificate. Your ICP-ATF certification will be received via email.
On successful completion of this training process, you will become ICAgile Certified Professional in Agile Team Facilitation.
Why iZenBridge?
iZenBridge is a global firm and one of the leading training providers in the industry. We hosted our first "Agile Project Management Workshop Jakarta" in 2014. We have been helping professionals get the desired knowledge & certification by conducting agile and scrum training in Jakarta since 2016. In collaboration with our local training partner – "Agile Academy Indonesia", we also hosted our first "ICAgile Certified Professional – Agile Coaching" in Jakarta in August 2019.
Our courses are designed based on a conceptual understanding of topics. Our classroom style videos are engaging, enjoyable, and designed using interactive whiteboard sessions. Our Youtube channel includes hundreds of FREE videos to learn concepts in simple language. It has subscribers from over 50 countries and among the most popular learning Channels.
Q. What is ICAgile?
A. International Consortium of Agile (ICAgile) is an international organization, headquartered in Virginia, USA. They have worldwide recognition for their training tracks related to Agile.
Please find more details here… https://icagile.com/
Q. Who is this certification recommended for?
A. The primary target audience for this training are leadership roles in an Agile context who wish to enhance their facilitation skills – most notably (but not limited to) current and aspiring Scrum Masters and Agile Coaches.
Q. Are there any prerequisites or qualifications required before this training program?
A. While there are no conditional pre-requisites for this training program, it is advised that participants have:
Sound knowledge of Agile and Scrum
Agile work experience in a lead role – Scrum Master, Agile Coach, Agile Project Manager, Product Owner, etc.
Please call us if you are not sure if you have relevant work experience for this training.
Q. Besides training, are there any additional evaluation criteria (assessment or interview) to be eligible for the certificate?
A. Instead of formal post-training assessment, this program aims to deliver the required learning objectives through an engaging schedule that utilizes classroom discussions, individual exercises, group exercises, role plays, etc. In short, trainer evaluation during the training will be used as the primary criteria for granting the certificate.
Q. What is the eligibility period of ICP-ATF certificate?
A. The ICP-ATF certificate comes with lifetime eligibility. It does not require additional expense to renew every few years.
Q. How much time does it take for the certification process?
A. The certification process is quite smooth at ICAgile. You can expect to receive your certificate within 1 or 2 days of training.
Q. I am interested in this program. What do I need to study or prepare before I attend this training?
A. Participants are expected to have a good working knowledge of Agile and Scrum. If you are new to Agile or Scrum, we recommend you to read through the basics. Working experience as Scrum Master, Agile Coach, Product Owner or an Agile Project Manager would be a definite plus.
Q. How is this course different from Scrum Master?
A. Scrum Master is a training based on the Scrum framework, it does not cover the facilitation, which is a must-have skill for anyone leading a collaborative team
Q. I have two years of experience as a Scrum Master, is this course right for me?
A. If you have worked as a Scrum Master for two years, perhaps you already understand the criticality of facilitation skills in the success of your Scrum team. This course makes you handle collaborative and self-organizing teams more effectively.
Q. I am a project manager with no experience of Scrum or Agile, do you recommend this course for me?
A. If you are a project manager working in a traditional project, it's the right time for you to learn collaboration and facilitation skills. The world is moving agile and you cannot be left behind.
Q. Does this course offer some PDUs/SEUs for renewal of my current certificates?
A. Yes, you will get 16 PDUs and 16 SEUs from this training.
Q. How many participants are expected to be in the training?
A. Given the interactive nature of the training, we will be limiting the number of participants to twenty only, to ensure we don't compromise on quality. If you have failed to register the currently scheduled training, we sincerely request to kindly wait and register for the next training.
Upcoming Classroom Trainings
Director, Project Management Professional (PMP)® & Agile Certified Practitioner (PMI-ACP)® Certification Trainer, iZenBridge

Saket Bansal is the Founder of iZenBridge, a global education provider dedicated to improving the employability of working professionals. Saket started his professional career as a developer, and from the last eight years, he is in education and consulting. Saket facilitates training on Business Agility, SAFe, Disciplined Agile, Project Management, Agile, Scrum, Kanban, Facilitation and Coaching skills. Saket is helping start-ups, mid-size organizations and big corporates in developing high performing teams and achieving business agility.