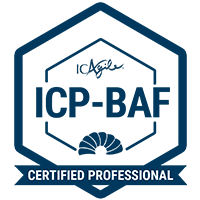 ICAgile Certified Professional - Business Agility Foundations (ICP-BAF) Virtual
16 – 24 June 2021

3 hrs – Every Wed & Thur: 4 Sessions
United States & Canada



16 – 24 June 2021
5:30 AM – 8:30 AM EST

(GMT-4)
4:30 AM – 7:30 AM CST

(GMT-5)
3 hrs – Every Wed & Thur: 4 Sessions
Global timings for the class
05:30 AM – 08:30 AM EST(USA)
04:30 AM – 07:30 AM CST(USA)
03:30 AM – 06:30 AM MST(USA)
10:30 AM – 1:30 PM BST (UK)
7:30 PM – 10:30 PM AEST (AUS)
11:30 AM – 02:30 PM CEST (Germany)
12:30 PM – 03:30 PM EEST (Greece)
12:30 PM – 3:30 PM AST (Saudi Arabia)
1:30 PM – 4:30 PM GST(UAE)
05:30 PM – 8:30 PM HKT (Hong Kong)
03:00 PM – 06:00 PM IST (India)
Limited Time Offer 10% Off, Apply Coupon
Apply Coupon
IZ10
The ICAgile Certified Professional in Business Agility Foundations® (ICP-BAF) certification is provided by the globally renowned "ICAgile." If you are an Agile Coach or responsible for leading agile teams, this program is for you. Agile based approaches are helping organizations to adapt to changing business needs, and now organizations are looking to develop ability where business systems can rapidly respond to change. This program helps you in developing skills to assist the transformation of organizations from Traditional models of management and corporate governance to modern models that are built for Agility. The program covers topics like Leadership, Lean System Thinking, Managing Change, Network Organization, Developing People, and Design Thinking. The program is developed by blending theory with case studies to facilitate your study journey towards mastery.
We offer four virtual sessions and each session will be three hours long. The course is designed specifically for busy professionals who are all packed up in working hours. Our online live ICP-BAF program would be an enriching experience to ensure that you have a rich understanding of Agility without sacrificing your office. We have an expert team of Agile coaches who guide you perfectly throughout the journey of Business Agility. Upon successful completion of the course, professionals will receive certification from the International Agile Consortium (ICAgile).
Who should attend?
This virtual session (ICP-BAF) will benefit:
Current and aspiring Business Agility Leaders
Agile Coach / Consultants
Business Change Agents
Business Leaders / Managers
Product Owners / Product Manager
Product Managers
Deliverables
We are a professional training team, and we like to give a personal level of support before, during and after the class. On successful completion, each participant will receive:
ICAgile Business Agility Foundation Certification (ICP-BAF) From ICAgile
6 strategic, 4 Leadership, and 6 Technical PMI PDUs
16 SEUs
ICP-BAF Certificate is valid for a lifetime
Pre-requisites
Deep understanding of Agile Values and Principles is needed for this program, having 3 years of experience in applying agile will be beneficial.
What will you learn?
Our four live virtual sessions spread across multiple weeks and many offline activities help you in achieving the following learning objectives:
The mindset and culture that instills business agility
A blueprint for change based on current thinking in the management and human dynamics
The strategies to help evaluate the work practices and develop them
How to describe the client(s) and how to add value to them
How to view everything as an experiment, with a confirmed validity check and hypothesis or disproved with actual empirical data
How to use maps of value sources, Kanban values, principles and standards
How to apply agile and lean thinking to eliminate waste and build a room for innovation
Upcoming Classroom Trainings
Introduction to Business Agility
Determine the need of Business Agility for your context
Identify business drivers that are forcing the organization to learn a new way of thinking
Illustrate underlying values, principles, and dimensions of Business Agility
Evaluate the case for empowering teams
Compelling Vision, Focus and Clarity of Purpose
Develop Compelling Vision and Clarity of Purpose
Apply techniques to understanding Business and Emerging Markets
Apply tools to improve awareness of customer/stakeholder context
Develop Empathy Map, Business Model Canvas and path to Business Agility
Enabling New Ways of Thinking
Determine differences between a growth mindset and a fixed mindset
Judge Blind Spots, Mental Models, Patterns and Sense-Making
Evaluate Relationship Between Complexity and Business Agility
Relate with Managing Dilemmas, Paradoxes and Polarities
Value, Design Thinking and Lean Startup
Develop Value Model
Apply Design Thinking tools ("empathy map for the case study")
Develop value and growth hypothesis
Develop Business Model Canvases
Lean System Thinking and Frameworks
Applying Lean Systems Thinking in identifying waste
Describe Change and Polarity management model
Develop Kanban System for Flow-based Systems
Compare Flow and Iterative Framework
Determine the purpose of selected metrics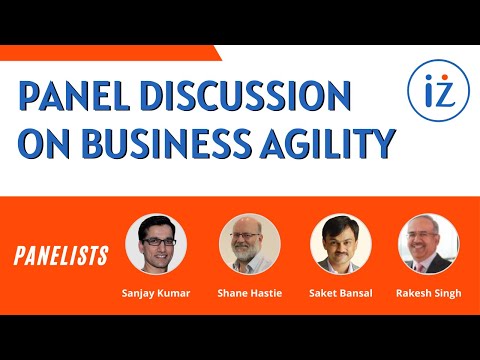 Download The Complete ICP-BAF Content Outline
16 – 24 June 2021

3 hrs – Every Wed & Thur: 4 Sessions

Country
Timing
US & Canada
5:30 – 8:30 AM EST(USA)
4:30 – 7:30 AM CST(USA)
3:30 – 6:30 AM MST(USA)
Australia
7:30 PM – 10:30 PM AEST
UK, London
10:30 AM – 1:30 PM BST
Hong Kong & Singapore
5:30 PM – 8:30 PM HKT
UAE
1:30 PM – 4:30 PM GST
Saudi Arabia
12:30 PM – 3:30 PM AST
Germany & France
11:30 AM – 02:30 PM CEST
India & SriLanka
3:00 PM – 6:00 PM IST
USD

540

486 Available till 25th May
Trainer: Saket Bansal
Q. What is ICAgile?
A. The International Agile Consortium (ICAgile) is an international organization headquartered in Virginia, USA, with worldwide recognition for its Agile-related training tracks. Please find more details here… https://icagile.com/
Q. What is Business Agility?
A. Business agility is the ability of an organization to:
Adapt quickly to market changes, both internally and externally
Respond rapidly and flexibly to customer requirements
Adapting and leading change in a productive and cost-effective manner without compromising quality
Continue to have a competitive advantage
Q. How do I achieve Certification in Business Agility Foundations (ICP-BAF) from ICAgile?
A. ICAgile certified course: ICAgile ICP-BAF Certification is issued successfully after completion of this course.
Q. How do I introduce this course to my facility to train my team on Agility in business?
A. iZenBridge offers Private Team Training that can save time and travel costs by actually training the entire team at a convenient location. We manage all the information including travel by professor, tailor-made content, detailed course materials, shipping and setup, and teardown equipment.
Q. What is the validity of the ICP-BAF certificate?
A. The ICP-BAF certificate is valid for a lifetime. It does not require additional expenditure to renew every few years.
Q. What is the certification process for ICP-BAF?
A. Once you join our virtual ATF program, you will participate in an online session, as indicated in the schedule and you are also expected to complete program assignments. On the successful completion of all classes and the assignments, you will be awarded ICP-BAF certification.
Q. What is the certification fee for ICP-BAF?
A. The cost of certification is included in the ICP-BAF training fee, you need not pay anything separately.
Q. I am interested in this program. What do I need to study or prepare before I attend the classroom program?
A. Participants were expected to have a good working knowledge of Agile and Scrum. If you're new to Agile or Scrum, we recommend that you read the basics. Work experience as a Scrum Master, Agile Coach, Product Owner or Agile Project Manager would be a definite plus.
Q. Is this virtual program effective?
A. Yes, we've already done many virtual Agile Coaching batches. The session does achieve the intended goals effectively. The participants get an opportunity to learn from live examples and case studies.
Q. How much time does it take for the certification process?
A. The certification process at ICAgile is quite smooth. You can expect to receive your certificate within a few days of training, no later than a week.
Q. What if I find it difficult to follow the class schedule because of some unscheduled events?
A. We support you in moving to other groups of the same or different times, you can take such rescheduling option up to 6 months of enrolling in the class. You can finish say two sessions with one group and the remaining two with other groups.
Q. What if I don't find the session relevant for me
A. We assure 100% satisfaction and in order to achieve it, we give you a 100% refund if you don't find the program relevant for you. In order to achieve this refund, you need to report your discontinuation after the first session.
Training Schedules would support the time zones of the following countries/Cities
US, Canada ,UK, London, Australia, Melbourne, Sydney, Perth, Florida, New York, Washington, Seattle, Mississauga, Charlotte, Cairo, Columbia , Wellington, New Zealand , Fishers , Toronto ,Germany, Denmark France ,Chile, Santiago ,Argentina, Poland, Portugal, Netherlands, Prague, Belgium, Sweden, Spain, Saudi Arabia ,Riyadh, UAE ,Dubai, Egypt, Greece, South Africa, Turkey, Nigeria, ,Indonesia, India, Bangladesh, Singapore, Malaysia, Sri Lanka, Manila
Director, Project Management Professional (PMP)® & Agile Certified Practitioner (PMI-ACP)® Certification Trainer, iZenBridge

Saket Bansal is the Founder of iZenBridge, a global education provider dedicated to improving the employability of working professionals. Saket started his professional career as a developer, and from the last eight years, he is in education and consulting. Saket facilitates training on Business Agility, SAFe, Disciplined Agile, Project Management, Agile, Scrum, Kanban, Facilitation and Coaching skills. Saket is helping start-ups, mid-size organizations and big corporates in developing high performing teams and achieving business agility.