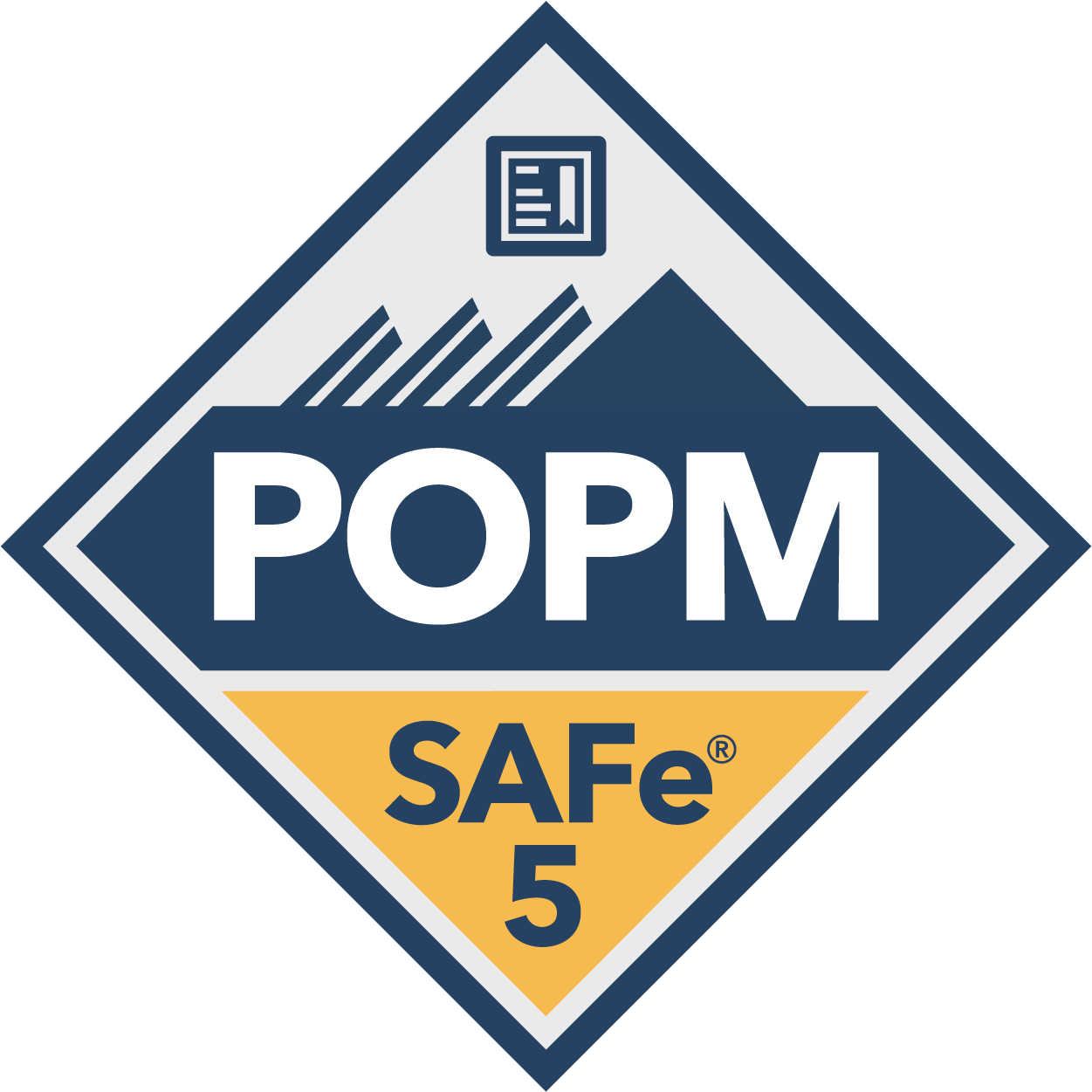 SAFe Product Owner / Product Manager Certification Online
UpComing Training
SAFe Product Owner/Product Manager Certification– Virtual (8 – 9) August
8 hr – Sat & Sun: 2 Sessions



3:30 pm – 11:30 pm IST (GMT+5.5)
6:00 am – 2:00 pm EST (GMT-4)
Due to covid 19, We are offering 15% Off on SAFe PO/PM, Apply Coupon
IZ15
SAFe® Product Owner/ Product Manager (SAFe® PO/PM) is a designation offered by renowned organization "Scaled Agile". This SAFe® PO/PM virtual training certification program is ideal for you if you want to work with customers to identify and prioritize the organizational requirements. As a SAFe® professional, you will be required to apply Lean-Agile mindset and SAFe® principles and practices in the organization, identify the customer needs, write epics, capabilities, features and stories, and prioritize work to deliver value to the organization. You will gain an in-depth understanding of how to effectively perform the role in the Agile Release Train (ART) as it delivers value through Program Increments. You will also discover how the Continuous Delivery Pipeline and DevOps culture contribute to the relentless improvement of the ART.
We offer a SAFe® Product Owner/Product Manager virtual live session. The course is designed specifically for the professionals who are usually all packed up in working hours and who are still passionate about building Product Owner/Product Manager skills in the difficult situation of COVID-19. Our online live SAFe® Product Owner/Product Manager program would be an enriching experience to ensure that you have knowledge and understanding about the role of the Product Owner and Product Manager role in the organization. You will be required to have approx. 20 hours of self-study for better understanding. It is recommended that one should complete the reading of theory before the session so that they can actively participate in all the activities and conversations. We have an expert team of Agile coaches who guide you perfectly throughout the journey. To get Certified, one must attend live virtual sessions and clear the SAFe® PO/PM exam. Upon successful completion of the course, professionals will receive certification from the Scaled Agile.
Upcoming Classroom Trainings
What will you learn?
Our SAFe® Product Owner/Product Manager virtual sessions help you in achieving the following learning objectives i.e how to:
Apply the Product Owner and Product Manager role in the organization
Determine and connect SAFe Lean-Agile principles and values to the PO/PM roles
Classify Epics into Features and decompose Features into Stories
Discuss and refine Features into Stories
Define and manage Program and Team backlogs
Determine and collaborate with Agile teams in estimating and forecasting work
Explain and represent Customer needs in Program Increment Planning
Identify and execute the Program Increment and deliver continuous value
Topics Covered
Becoming a Product Owner/Product Manager in the SAFe enterprise
Preparing for PI Planning
Leading PI Planning
Executing Iterations
Executing the PI
Becoming a Certified SAFe Product Owner/Product Manager
Course Prerequisites
Everyone is invited to attend the course, regardless of experience. However, the following prerequisites are extremely recommended for those who aim to take the SAFe® PO/PM certification exam:
Attend a Leading SAFe® course
Experience working in a SAFe environment
Experience with Lean, Agile, or other relevant certifications
Exam Details
Name – SAFe® 5 Product Owner/Product Manager Exam
Format – Multiple choice
Delivery – Web-based (single-browser)
Access – Candidates can access the exam within the SAFe Community Platform upon completion of your SAFe® Product Owner/Product Manager course.
Duration – 90 minutes (1.5 hours)
Number of questions – 45
Passing score – 33 out of 45 (73%)
Exam cost – The first exam attempt is free if the exam is taken within 30 days of course completion. Each retake attempt costs $50.
Retake policy – The Second attempt can be done immediately after the first attempt. The third attempt requires a 10-day wait. The fourth attempt requires a 30-day wait.
Certification Process
The SAFe® Product Owner/Product Manager virtual program will be delivered via a webinar platform (Zoom). Once you enroll, you will receive an email with session details.
It will be mandatory to attend all the live sessions which will be highly interactive, with a lot of discussions and exercises to help you improve the skills. You will be required to clear the SAFe® PO/PM exam. Once all the above tasks have been completed, we will upload your details at the Scaled Agile's website. You will receive an email to give feedback about the course. Once done with the feedback, you will get an email to claim your certificate. Your SAFe® PO/PM certification will be received via email.
On successful completion of this training process, you will be awarded the designation of SAFe® Product Owner/Product Manager (SAFe® PO/PM) by Scaled Agile.
Who should attend?
This workshop will be beneficial for:
Product Owners
Project or Product Managers
Scrum Masters
Release Train Engineers
Solution Train Engineers
Product Line Managers or Delivery Manager
Business Owners
Business Analysts
Agile Coach
SAFe Program Consultants
Development or Solution Managers
Portfolio or Program Managers
Software Developer
Members of the LACE
Enterprise, Solution, and System architects
What will you get?
SAFe® PO/PM Online Training with 100% success guarantee
100% Assured Scaled Agile certification
1-year membership with Scaled Agile
Course Fee includes Scaled Agile Certification Examination Fee
Eligible to apply for 15 PDUs with the Project Management Institute (PMI) for PMP, PgMP, and PMI-ACP certifications
Eligible to apply for SEUs under Category C, toward earning or renewing their CSP through Scrum Alliance.
Access to Meetup groups and events that connect you with other Certified SAFe Professionals
Certification is valid for 1 year, after that need to pay renewal fee: $100
Continuous learning and support to advance your SAFe® PO/PM understanding
Full money back, if you don't like or unable to attend the class
Why SAFe® PO/PM with iZenBridge?
We are one of the best certification training providers in the world. Our SAFe® PO/PM virtual training will allow you to do this course from your desk. These live sessions will be highly interactive, with a lot of discussions and exercises to help you improve your skills. You will get a chance to freely share and discuss your challenges and experiences with the expert trainer and other global participants.We conduct doubt clarification webinars for a better understanding of all the concepts for our prestigious customers. Our Youtube channel includes hundreds of FREE videos to learn concepts in simple language. We also have 34,000+ youtube subscribers from more than 50 countries. Our courses are well recognized and receive 500+ enrollments every month. We believe in guiding our customers perfectly throughout the journey.
The practice of SAFe questions can make your exam preparation complete as it is the best tool to evaluate your hold on the principles and techniques of SAFe. Our practice test will provide you an advanced path that will help you in developing the understanding of the SAFe PO/PM role.
Here is a set of questions that can strengthen your preparation and can help in the identification of the knowledge gap.
Access the free test
No time constraints for completing the test
Improve your speed and time management skills
Help you in familiarizing with the real exam environment
Check your scores and explanations directly after the test
Q. Why should I go for SAFe™ Product Owner/ Product Manager?
A: SAFe™ Product Owner/ Product Managerisa Scaled Agile credential. If you are an agile change agent, agile leader, business analyst, product manager or product owner who works in a scaled agile set-up, you can go for this certificate.
Q. Will I get any PDUs/SEUs after your training program?
A: Yes, the students will get 16 Category "A" PDUs towards PMI's PMP® / PMI-ACP® credential  and 15 Category "C" SEUs for CSP® credentialafter training program.
Q. Do I need to take any test to become SAFe PM/PO?
A: Yes, our workshop is followed by an online certification examination. The participants need to pass the examination within 30 days of workshop to achieve the SAFe PM/PO credential.
Q. What are the pre-requisites to attend training for this certification?
A: You must have 5 plus years of experience in software development, testing, business analysis, product or project management along with Agile/Scrum project experience.
Q. Do you provide training material for this certification?
A: You will get free Access to Agile / Scrum E-learning Program. We provide the hard copy of the course handout.
Business Agility Faculty, SAFe 5 Program Consultant
Rakesh Singh has 28+ years of association with Siemens and expertise in Quality Management, Project Management, Lean/Agile transformation (SAFe 5 SPC) and numerous business excellence framework Rakesh offers Coaching, Consulting and Training services to potential clients.
Training Schedules would support the time zones of the following Countries/Cities
US, Canada, UK, London, Australia, Melbourne, Sydney, Perth, Florida, New York, Washington, Seattle, Mississauga, Charlotte, Cairo, Columbia, Wellington, New Zealand, Fishers, Toronto, Germany, Denmark France, Chile, Santiago, Argentina, Poland, Portugal, Netherlands, Prague, Belgium, Sweden, Spain, Saudi Arabia, Riyadh, UAE, Dubai, South Africa, Egypt, Greece, South Africa, Turkey, Nigeria, Indonesia, India, Bangladesh, Singapore, Malaysia, Sri Lanka, Manila, Delhi, Gurgaon, Bangalore, Hyderabad, Chennai, Mumbai, Kolkata, Kerala, Kochi.
iZenBridge
Average rating:
0 reviews